Next-generation Trend of Optical Fiber Wiring System for Data Center
Date:
2015-12-16 23:10:57
Author:
10Gtek
Tag: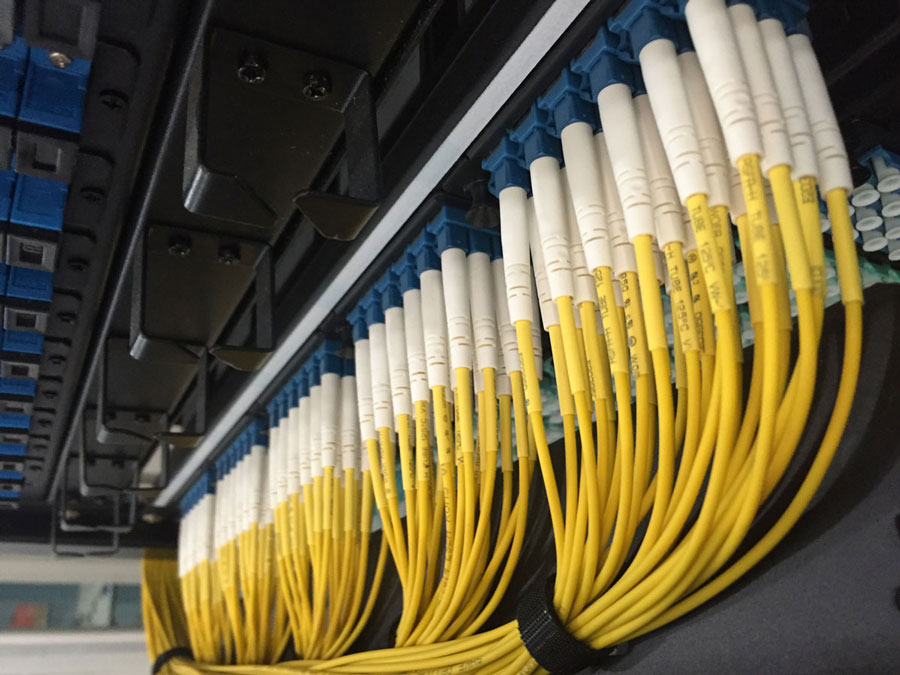 Market Background

In the last 5-6 years, Data center constructions are in the fast-growing stage around the global. According to the third party survey of AMI, the data center's construction will continue in the fast-growing channel over the next 5 years or even a longer period.

Application and Development of Optical Fiber Technology

Data center wiring system needs to improve bandwidth for building platforms for the fast-growing networks(such as core layer network, aggregation layer network and SAN storage network) transmission. Optical fiber transmission could guarantee the bandwidth expansion. Compared to the single-mode fiber, multi-mode fiber has much lower integrated cost including passive and active, which makes the multi-mode fiber have an absolute advantage in data center applications. Large-scale data center has more than 85% of optical fiber wiring systems are using multi-mode fiber. In August 2009, TIA formally approved the OM4, which is compliant with EIA/TIA492AAD multi-mode optical fiber standard with providing a good development prospect for multi-mode optical fiber used in the future. Using VCSEL laser optimization technology, the bandwidth is gradual upgrading from OM1 to OM4.

With the IEEE802.3ba (Ethernet 40G/100G new standard) released in June 2010, the applications of data center will open a new page of multi-mode optical fiber. 40G and 100G transmission would no longer rely on single-mode that is used in very high cost just like WDM serial transmission. The new Ethernet standard will use the way of OM3 and OM4 multi-mode parallel transmission that total cost accounts for 1/3 and 1/10 of single-mode systems. The multi-mode transmission advantage is very obvious. The tendency of market is usually determined by the cost and price factors, which is appropriate to choose which model could get maximum value from market.

The transmission mode of 40G multi-mode optical fiber is using each fiber up to 10Gbps of rate: 4x10Gbps=40Gbps. A total of 8 optical fibers, each 4-core fiber used in transmitter and receiver. In addition, the 100G network uses 10 optical fibers to sent and receive the optical signal, and the rate of transmission is up to 10x10Gbps=100Gbps, which included 20 optical fibers. The use of MTP/MPO standard wiring system is appropriate to the new 40G/100G optical network. The transmission mode of 40G is carried by 12-core fiber MTP/MPO connector within the outermost 4-core fibers on each side, the rest 4-core fibers are vacant in the middle. And the mode of 100G transmission is used in two 12-core fibers MTP/MPO connector within the medial 10 cores for transmission. If using the 24-core fiber MTP/MPO connector to complete the sending and receiving of 100G network, every 1-core fiber is vacant on each side.

Due to the new standard and applications standard of optical fiber technology of 40G/100G network are released, which brings more explicit direction of optical fiber selection for the construction of data center. OM3 and OM4 optical fiber has become the main application of data center. Although the transmission distance of multi-mode cannot compare with the single-mode fiber up to 10km or 40km in the application of 40G/100G network. In the indoor application environment of data center, more than 90% of fiber chain road length is less than 100 meters, and over 70% of large-scale data center length is less than 100 meters, over 80% of length is less than 125 meters. Multi-mode optical fiber can meet most need of chain road. With network equipment technology fast-upgrading, the transmission distance of multi-mode optical fiber will be further increased in the future. Please see the below table.
| | | |
| --- | --- | --- |
| Transmission Protocol | Type of optical fiber | Distance |
| 40GBASE-SR4 | OM3 | 100meters |
| 40GBASE-SR4 | OM4 | 125meters |
| 100GBASE-SR10 | OM3 | 100meters |
| 100GBASE-SR10 | OM4 | 125meters |


The North American telecommunications Industry Association released the Standard ANSI/TIA568C.3 in June 2008. Which defined three optical fiber connection mode of MTP/MPO connector system composed of multi-core fiber in fiber channel. Just like TYPE-A, TYPE-B and TYPE-C. In the application of 10G Ethernet, the device ports are all in duplex mode, so the MTP/MPO trunk link will eventually be converted into a duplex connector such as LC, SC. QSFP is supposed to directly link to MTP/MOP connector in the application of 40G/100G Ethernet, regardless of the quantity of optical fiber and the connection type, The link between the devices must form in TYPE-B mode, which helps equipment's sending channel correspond to receiving channel, or cannot communicate properly.

Through years of accumulated development, 10Gtek has launched high density MTP/MPO solution for the data center optical fiber wiring system. Our MTP/MPO wiring system is compliant with the miniaturization fiber optic connector standard. Equipped with multi-core belt fiber, the connection is stable and reliable. The ultra high density MTP/MPO wiring system would proceed the test of port between the connectors and belt fiber before rollout. Then plug and play with device in the field, Supporting the fast deployment for data center users is an ideal solution under the present background to meet the growing demand for data center high volume wiring. Our MPO/MTP wiring system is featured in fast construction, compact design, high precision and plug-and-play.