High Speed, Low Profile, New Internal Mini SAS Slimline Cable Assembly
Date:
2020-03-09 10:27:09
Author:
Urbanus
Tag:SAS,Slimline,SlimSAS
As we all known, Serial Attached SCSI(SAS) is created to overcome the insufficient of the old SCSI Parallel Interface. SAS has the feature of lower cost and higher performance, as well as a better compliance with SATA, therefore SAS have been widely spread and became the first choice of storage network of computer in different industries since it is initiated. But with big data and cloud application's development, the demand for faster data transmission rate of enterprise-class disk drives and higher performance of direct-attached storage application is increasingly urgent. Despite all the advantages, SAS is still limited by difficulties of speed improving, which always becomes obstacle of servers and hard drive controller's working. Fortunately, like other communication technology's constant progress, a new generation of SAS was created, which called SAS 4.0. It supports data rates of 24Gbp/s which doubles the data throughput of the previous generation SAS-3 standard.
In order to meet the demand for new generation of SAS-4 standard and more effective storage bandwidth, 10Gtek launches the brand new product, Internal SFF-8654 24G Mini SAS slimline cable, designed to provide for 24Gbp/s connectivity internal to the server between the SAS controller and SAS hard drive. It has some excellent specifications.
High speed
This very Internal SFF-8654 Mini SAS cable is compliance with the SAS-4.0 and SATA, as the below figure shows, which is updated fastest SAS standard. It can support the high speed up to 24Gbp/s. In general, the development of SAS cannot follow the pace of storage system's update, and always becomes the bottlenecks of I/O. If the storage system equipment can upgrade with this cable, it can keep your storage system running at top speed, as well as more excellent performance.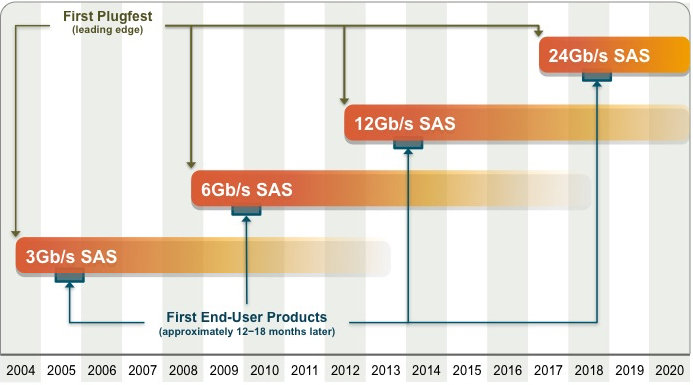 Figure 1
Flexibility and High-density
Using 3M twin axial cable, the brand new Internal SFF-8654 Mini SAS slimline cable assembly owns the unique ribbon construction, which is very flexible for devices to connect and provides easy routing of cables. The slimline can be easily folded and bent, even into 180 degrees. Besides the flexibility, using the slimline cable can maximize space utilization. In data center or some other applications, the slimline cable can route along the sides of cabinets and through narrow openings among fans, memory, heat sinks etc., which makes it possible for providing more freedom to maximize system and device's density. And all this happens under maintaining excellent signal integrity.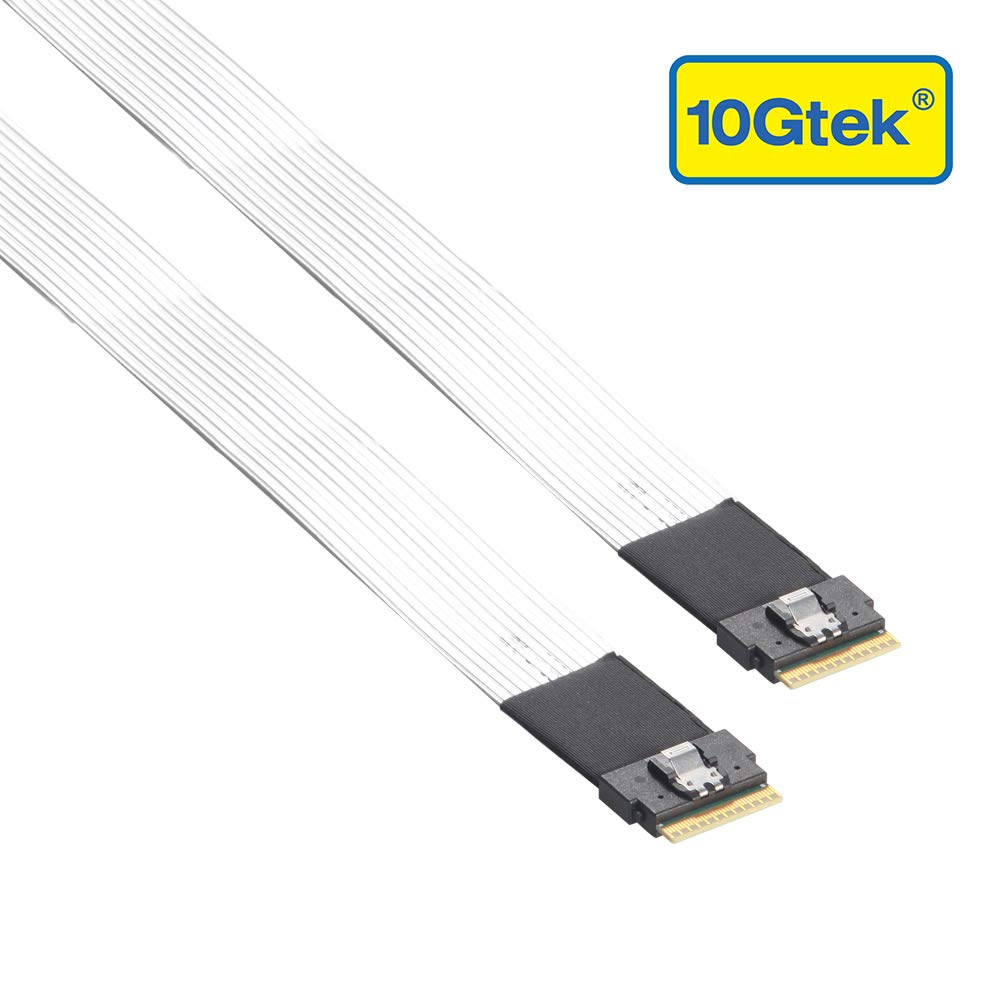 Figure 2
Straight and right angle varieties
The unshielded I/O connector called SFF-8654 is the standard the SFF committee released. The SFF-8654 has designed two version of connector, straight or right angle, which can be plugged into different receptacle configuration. 10Gtek provide straight to straight and straight to right angle, corresponding different backplane and application. Figure 3 shows the application view consisting of an 4X straight and right angle plug to straight or vertical receptacle configuration of this connector system. While Figure 4 shows the application view consisting of an 8X right angle plug.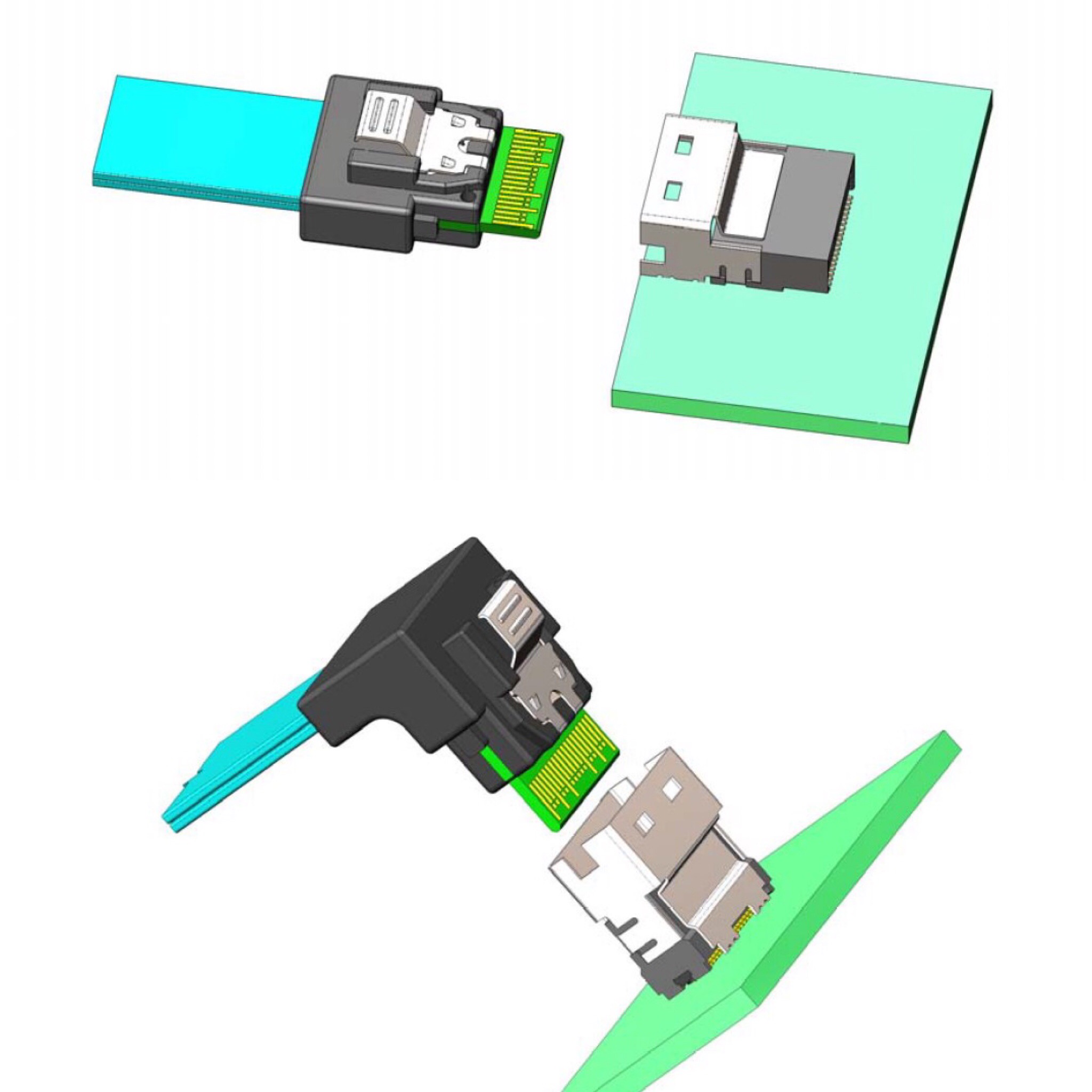 Figure 3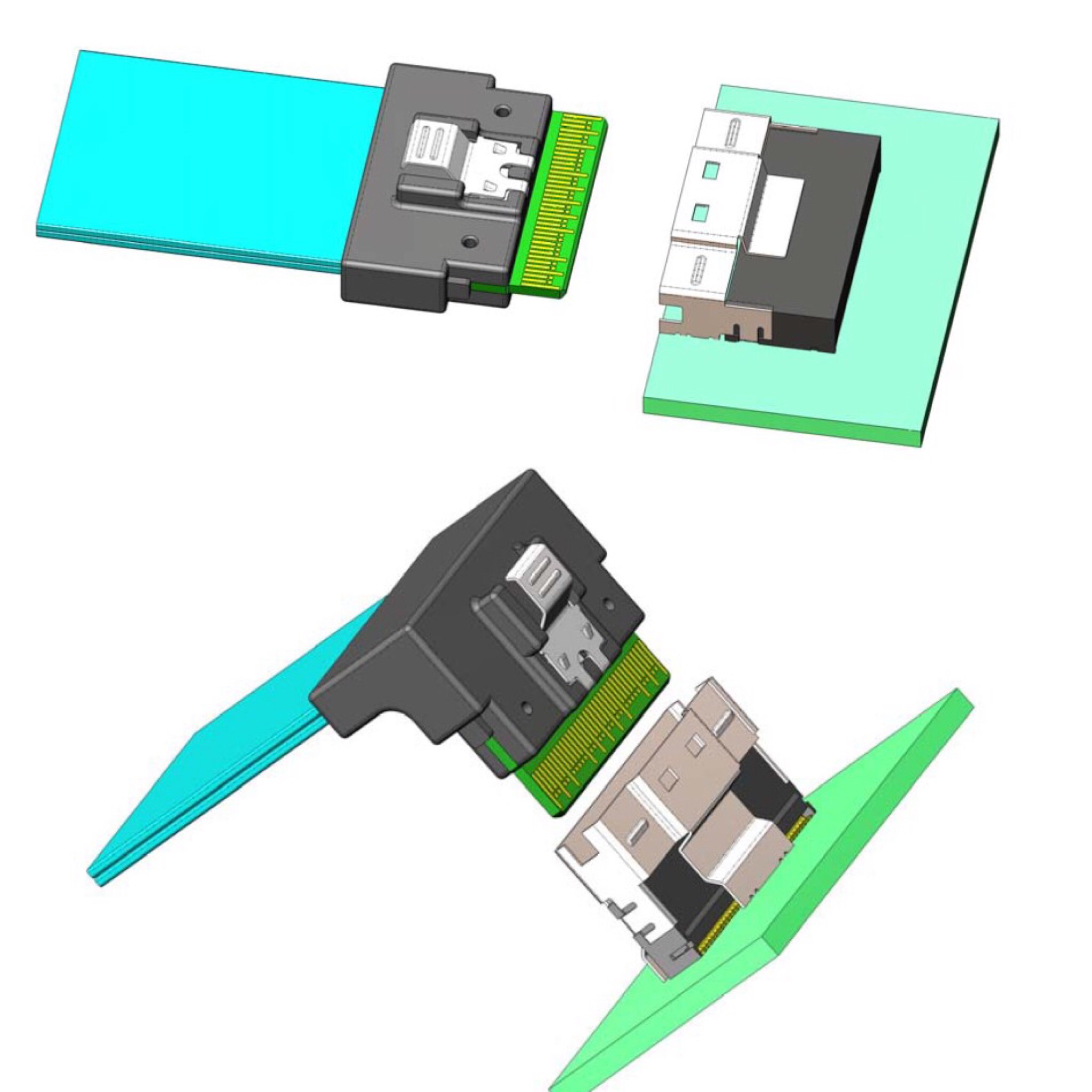 Figure 4
Applications
The Internal SFF-8654 Mini SAS slimline cable suits a variety of architectures in multiple SAS applications: such as enterprise storage, high performance computing, networking and data centers. After all, SAS is usually found in large data centres because of much high cost. But just with a simple adapter, the application of PCIe can be implemented. So the scope of this Internal SFF-8654 Mini SAS slimline cable application is much extensive. As the common motherboard interface for personal computers' graphics cards, hard drives, SSDs, Wi-Fi and Ethernet hardware connection, PCIe applies more often in some data centre environments, video editing, financial modelling, simulation and high end gaming. You may also find some more concret application in the following figure: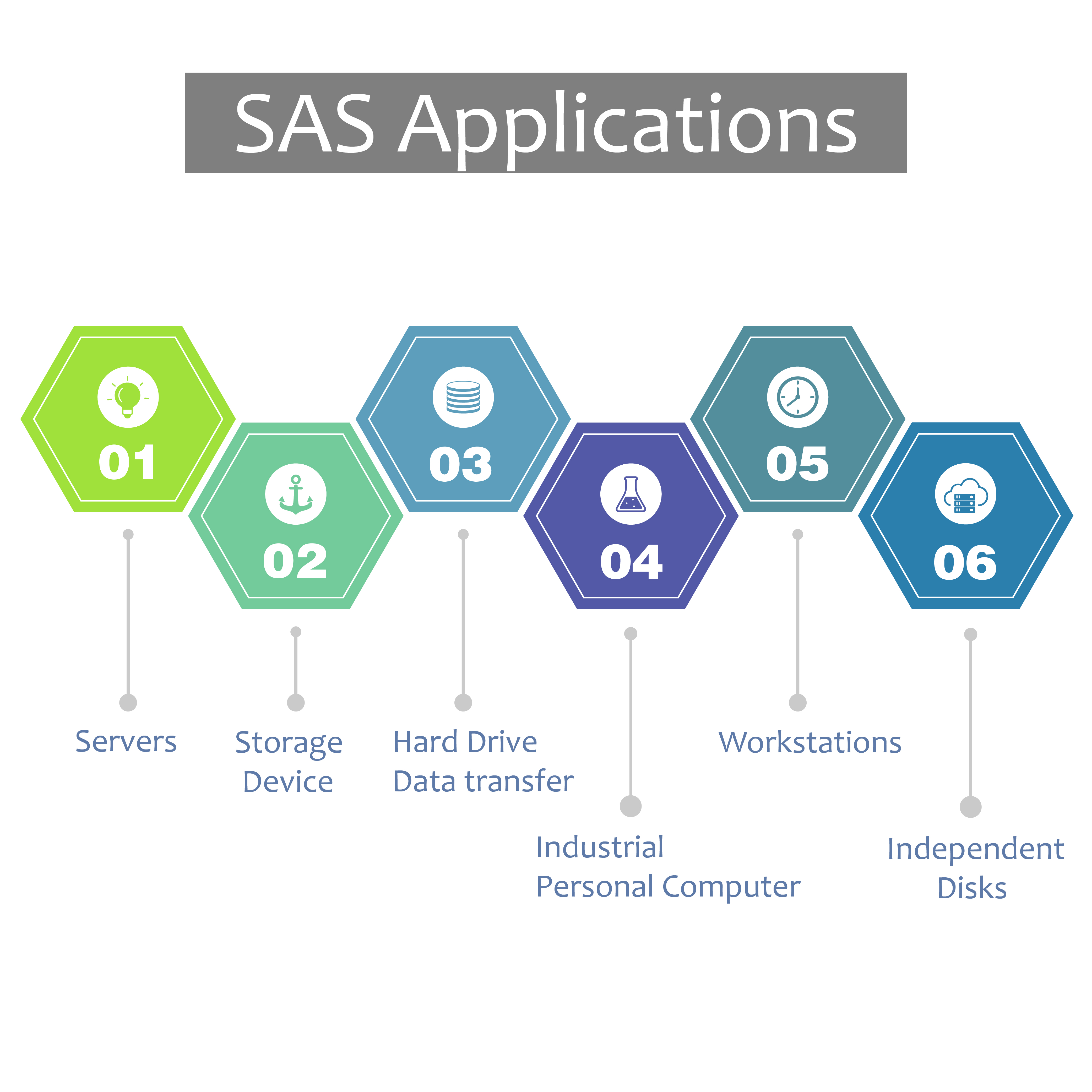 Parameter
| | |
| --- | --- |
| Transmission speed | Up to 24G |
| Length | 0.5m, 0.75m and 1m |
| Pins | 38 |
| No. of Lanes | 4x,8x |
| Connector | Internal SFF-8654 straight or right angle |
| Cable Type | 3M slimline twin axial |
| Signal wire sizes | 30AWG or 31AWG |
| Impedance | 100 Ohm(SAS), 85 Ohm(PCIe) |
| Material quality | Tinned copper |
| Cable Color | Silver |
| Ribbon Color | Black |
| Connector Color | Grey |
| Sidebands | With or without |
| Compatibility | SAS2.0,3.0; SATA |
| Environmental Compliance | RoHS |
| Customization | Accept |
Conclusion:
SAS-4 standard's higher bandwidth gives the slimline twin axial cable assembly the ability to support a larger storage environment and to respond more adequately to the development of solid-state storage and virtualization applications to meet the demands of higher transmission performance that are urgently needed. On the other hand, it can also get rid of the performance bottleneck caused by the limited bandwidth of the previous generation SAS-3, and work with the next generation bus, such as PCIe 4.0, to build a high-speed I/O environment from the server end to the storage device, covering the whole internal applications. The sooner you can increase the transmission speed and boost the capacity, the more quickly you will take advantage of the merit the advanced technology brings. Our innovative designs will help our partners and customers achieve their goals with the highest performance and lowest cost while guaranteeing a robust and uniquely built product capable of taking the solutions to the next level.
About Us
10Gtek designs, manufactures and sells optical communication products, including Fiber Optic Transceiver, DAC, AOC Cables and so on. 10Gtek takes great pride in its compliance with global industry standards and environmental compliance, such as UL, CSA, ISO14001, RoHS, ect. If you want to know more about our innovative product: the QSFP28 to QSFP28 cage, please no hesitate to contact us by E-mail : info@10gtek.com or visit our official website: www.10gtek.com and one-stop online shop: www.sfpcables.com to explore more details.