10Gtek's 100G Optical Solution For Immersion Cooling System
Date:
2020-01-13 12:21:00
Author:
Urbanus
Tag:ImmersionCoolingSystem,PUE,QSFP28
The concept of immersion cooling system was raised long ago. The main purpose of immersion cooling system is to decrease the consumption of power in data center or super computing.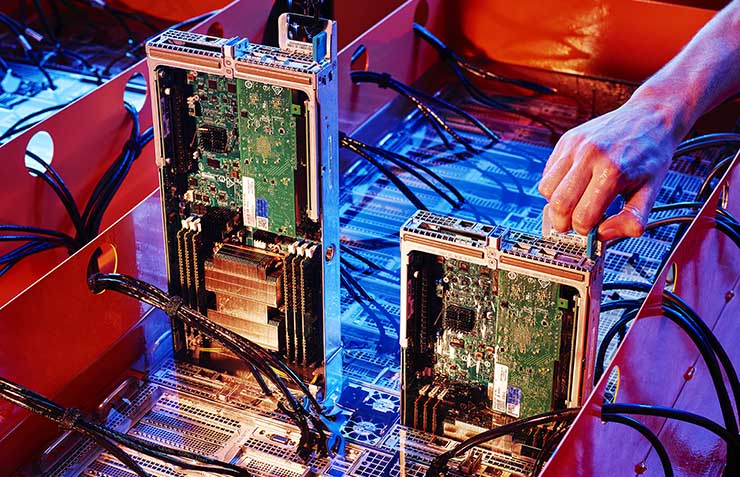 In data center or super computing application, PUE is an important ratio that describes how much energy is used by the computing equipment (in contrast to cooling and other overhead). PUE means Power Usage Effectiveness.

An ideal PUE is 1.0. So it's better that total power is consumed by IT equipment.
In a common data center, the distribution of the power usage is as the figure 1 shows.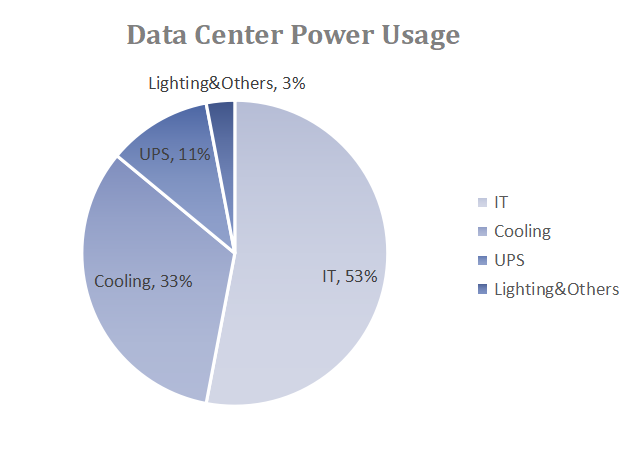 Figure 1
The overall power usage is 100%, while IT power usage is 53%. So PUE=100/53=1.886. The power usage effectiveness is 1.886.
This is the normal circumstances of data center's power usage. 33% of power usage is cooling.
Most of time, cooling means air cooling system.
There are several way solving the cooling problem. The natural way and artificial way. In terms of natural condition, some places have a better climate and environment than any other places. For example, a cooling summer. Hence, some mega enterprises have established data centers at these places due to the temperature is so low even in summmer time.
But not all enterprises have such ability to move their data center or establish new data center in a cool area. They have to use artificial way to solve the problem.
Fan cooling seems as a practical way, but the effectiveness is too low and cost lots of space. Considering the land rent is high enough, fan cooling is not a ideal choice anyway.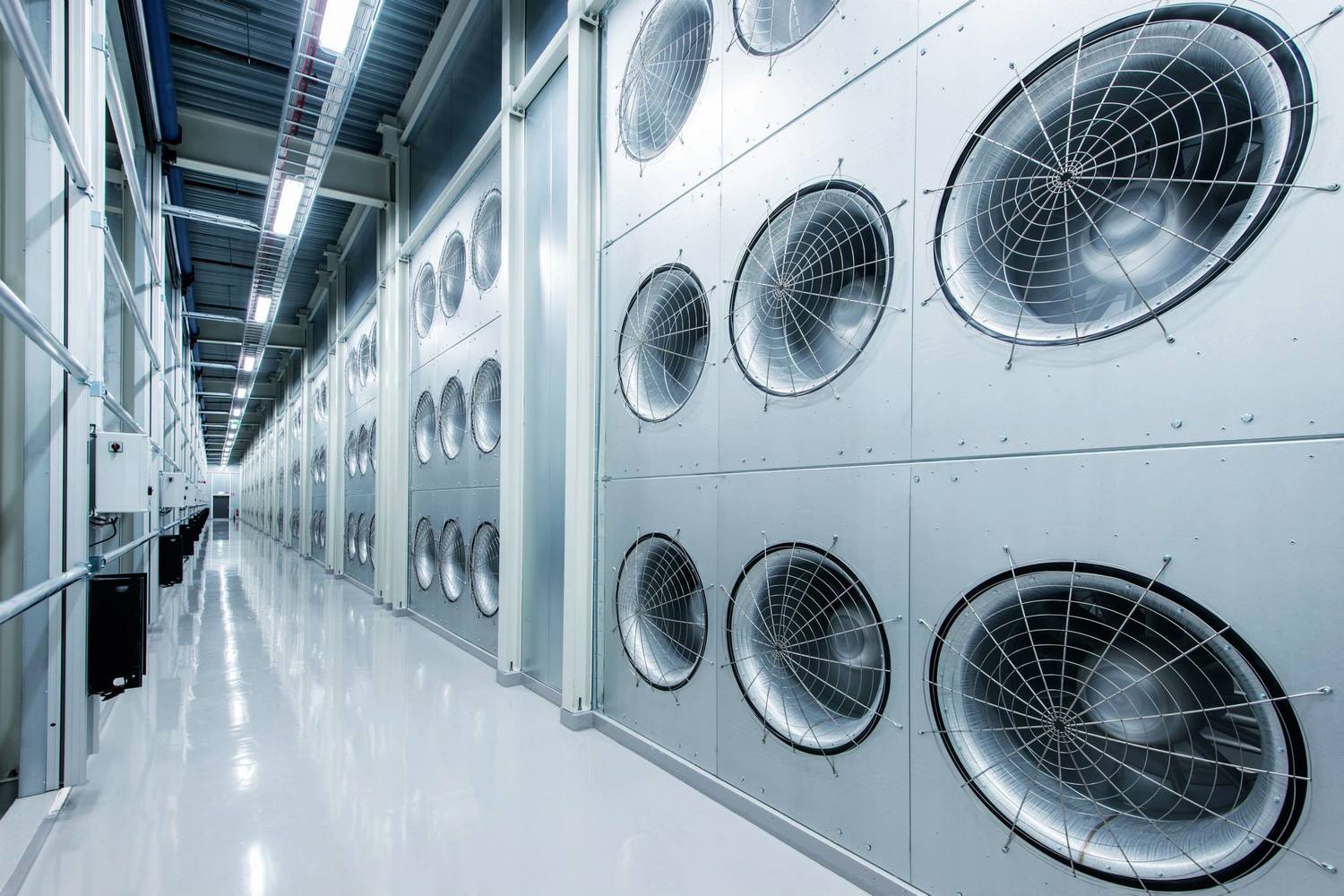 Air condition cooling is the better choice. The practical application is the same. Air cooling is the choice of most enterprises. But it causes the problem of high power usage.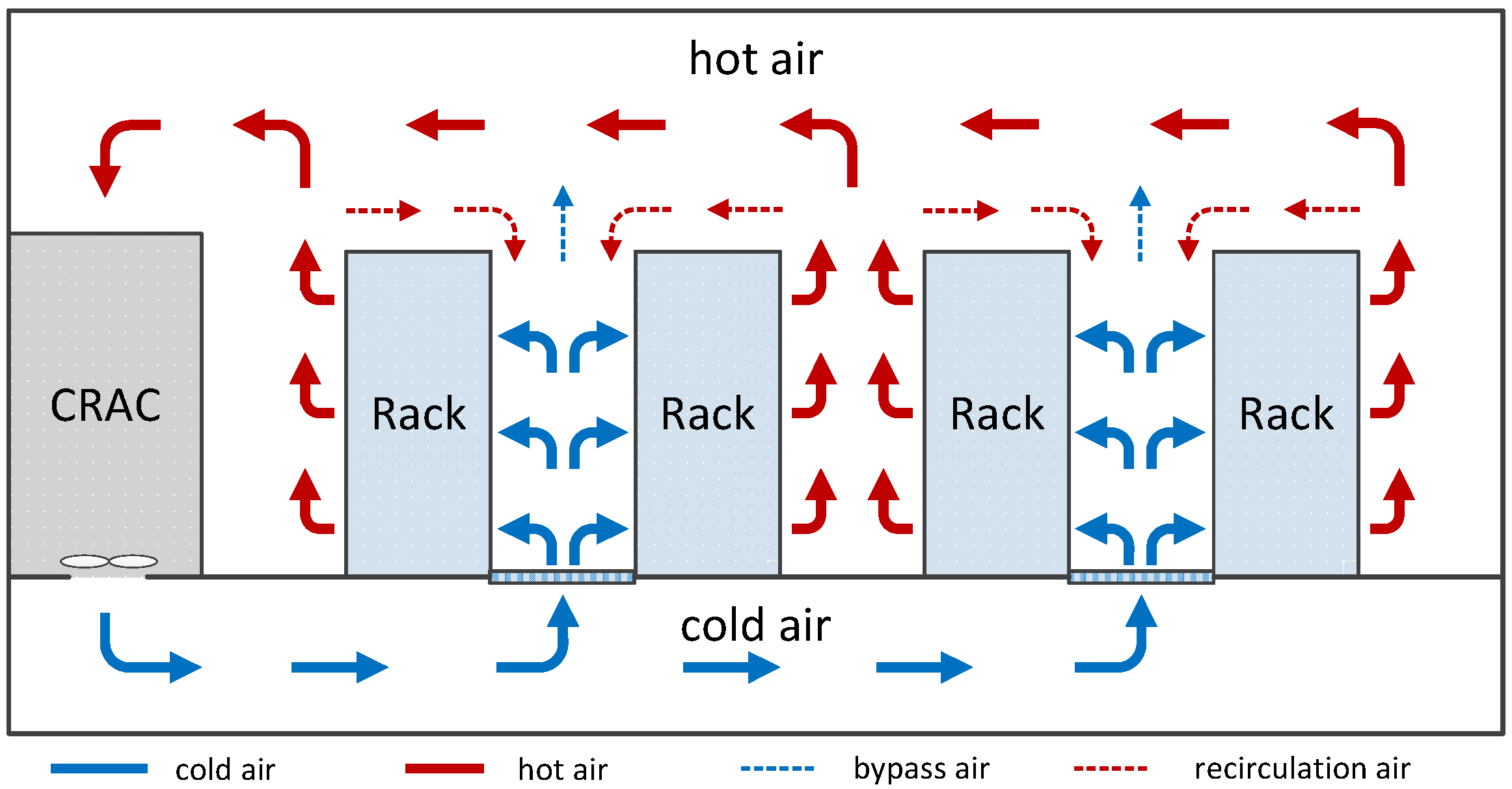 Besides fan cooling and air conditioner cooling, people think about another cooling method. That is liquid cooling. Liquid cooling system has a branch of practice. Immersion cooling is one of them.
To put it simply, immersion cooling system let the server immersed in the liquid. Due to the low specific heat capacity characteristics of the liquid, the cooling of the server will be achieved easily and effectively.
Because the immersion cooling system almost consumes no power, the power usage of cooling is vanished. That is the reason why IT power usage is high up to 92% in the the immersion cooling system power usage as below figure shows.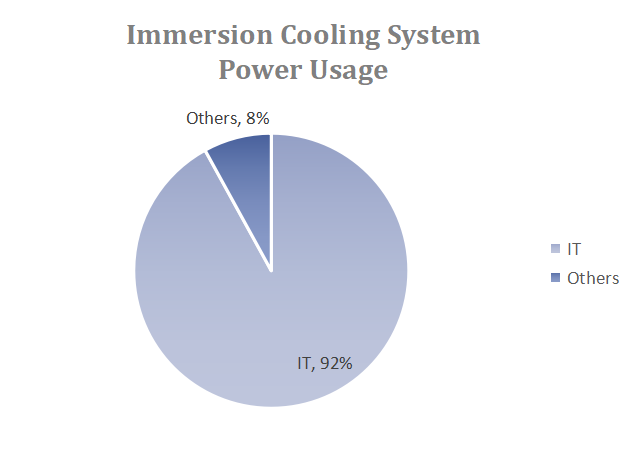 Figure 2
100/92=1.09. The power usage effectiveness is almost close to 1.
Immersion cooling system is belong to under-liquid technology. Here, liquid is not water but a kind of dielectric liquid.
So the server and copper cables can be put into the liquid and run normally without worrying about conduction, rusting and signal loss.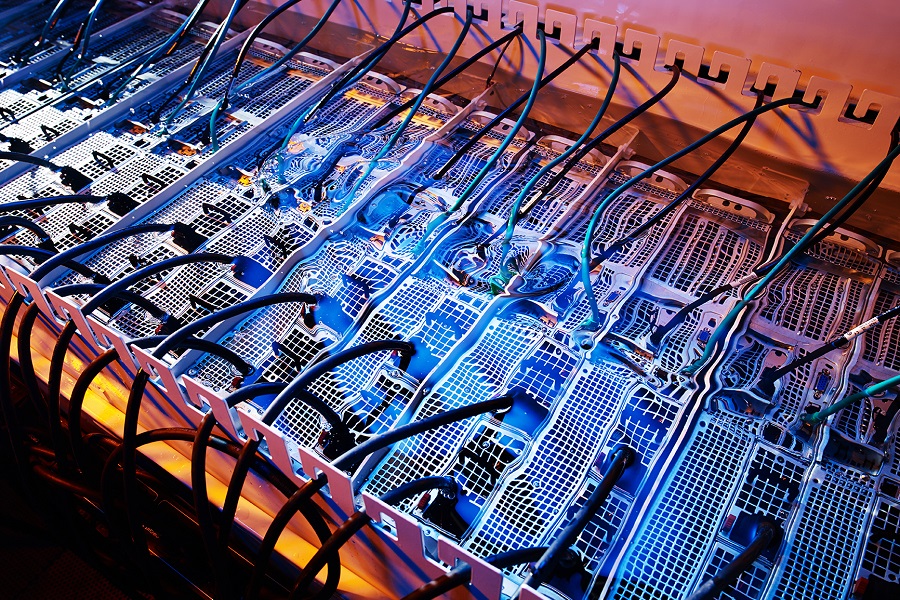 As for devices integrated optical interfaces, for example, optical fibre and optical transceivers, it will become a big problem. The performance of fiber lens will degrade in liquids, which means that the I/O link of submersed switches can't support the deployment of optical transceivers and active optical cables. Therefore, the signal transmission of transceiver or optical fibre is very difficult in the under-liquid environment.
So it actually poses a big challenge for fiber optic signal transmission in the immersion cooling system solution.
Facing this problem, 10Gtek launched a good solution, which is called QSFP28 cage. The innovative product not only makes the optical transceivers work successfully in immersion cooling system, but also can run the speed up to 100Gb/s at the whole system with little signal loss.
As for 100G connection solution in immersion cooling system. We try to conceive three solutions. They are 100G DAC, Silicon Photonics (CWDM4) and QSFP28 cage. Keep reading and you should know what the benefits of cage are.
DAC
Because of the dielectric liquid used by immersion cooling system, DAC can be connected to the server or switch that immersed in the liquid. Copper cables and interfaces used under liquid have no impact on signal transmission. If we want to make a 100G network system in immersion cooling system, 100G QSFP28 DAC is the most fundamental choice. As for the distance, the passive 100G QSFP28 DAC are ideally used within 5 meters, while active 100G QSFP28 DAC are used within 10 meters. DAC has a very thick form, occupying much space, so that it's not so convenient for them to use. Due to copper cable, the range of distance is another limit of DAC solutions. It is going to be a big problem when some situations used fiber-optic transmission occur.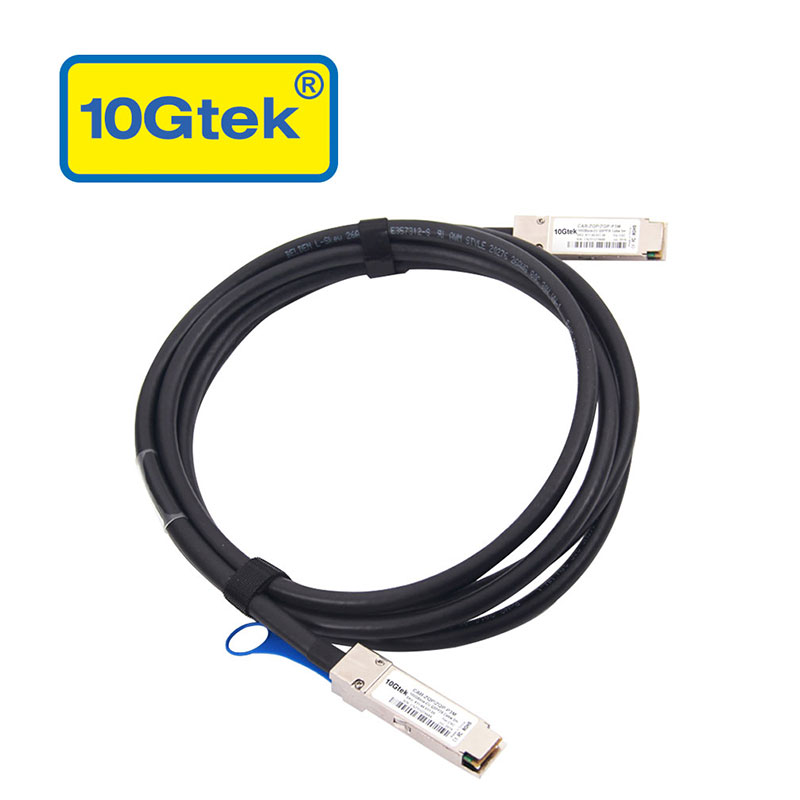 100G QSFP28 DAC Cable, 3 Meters, by 10Gtek
Silicon Photonics Optical Transceiver(CWDM4)
Silicon photonics is the application of photonic systems which use silicon as an optical medium. Because silicon photonics can effectively eliminate the problem of dispersion under liquid, it's no need worrying for the data loss when transmitted. To create the 100G solution, we need silicon photonics 100G single-mode CWDM4 optical transceiver and single-mode optic fiber. Depending on the varieties of 100G transceiver, the distance is ranging from 500 meter to 10 KM. Owing to the silicon photonics technology, the optical transceiver can be put under liquid. But Silicon Photonics technology has its limitation. For example, the silicon photonics optical transceiver has the high cost and low coupling efficiency so that it is not widely used.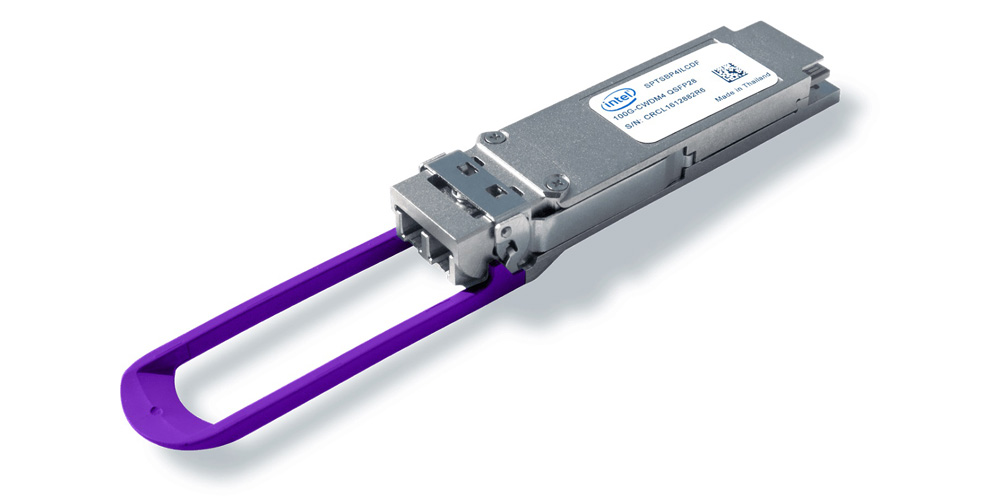 Silicon Photonics 100G single-mode CWDM4 optical transceiver by Intel
QSFP28 to QSFP28 Cage
QSFP28 to QSFP28 Cage is a kind of extender launched by 10Gtek. It is designed for immersion cooling system, managing the QSFP28 interface of switch or other devices to extend from liquid to the surface. In the application of under-liquid, QSFP28 to QSFP28 cage will be an excellent solution for 100G connection.
Compared to 100G DAC solution, QSFP28 cage has a more flexible operation. Once it inserts into the switch that is under liquid, the cage side of the assembly can act as the interface.
Moreover, unlike the high cost of the silicon photonics 100G CWDM4 optical transceiver solution, the QSFP28 to QSFP28 cage is a budget choice. The QSFP28 interface has been relocated to the surface, QSFP28 transceivers can be inserted into the QSFP28 cage. Based on the varieties of QSFP28 transceivers, including QSFP28 SR4 transceiver, QSFP28 LR4 transceiver, QSFP28 IR4 transceiver and QSFP28 CWDM4 transceiver etc., these connection solutions can reach different range of distance from 100 meters to 25 KM.
Conclusion
We have compared three main solutions. If we want to make 100G connection in immersed cooling system, 100G QSFP28 DAC is good choice in most cases. For long distance transmission, fiber optical switch is needed. Due to silicon photonics technology, silicon photonics 100G single-mode CWDM4 optical transceiver can be used under liquid. But the high cost places restrictions on the silicon photonics transceivers, so that it is not widely used in commercial market. QSFP28 to QSFP28 cage shows the excellent design for immersion cooling system. When the QSFP28 cage connects with 100G transceiver, the distance of network can reach up to 25 KM. Compared to silicon photonics transceivers, the cost of QSFP28 cage is very low. The table below shows the features of three different solutions.
| | | | |
| --- | --- | --- | --- |
| Solutions | Data Rate | Reach | Cost |
| 100G DAC | 100Gb/s | 5 M | Low |
| Silicon Photonics QSFP28 Optical Transceiver(CWDM4) | 100Gb/s | 10 KM | High |
| QSFP28 to QSFP28 Cage | 100Gb/s | 25 KM | Middle |
QSFP28 toQSFP28 cage by 10Gtek
About Us
10Gtek designs, manufactures and sells optical communication products, including Fiber Optic Transceiver, DAC, AOC Cables and so on. 10Gtek takes great pride in its compliance with global industry standards and environmental compliance, such as UL, CSA, ISO14001, RoHS, ect. If you want to know more about our innovative product: the QSFP28 to QSFP28 cage, please no hesitate to contact us by E-mail : info@10gtek.com or visit our official website: www.10gtek.com and one-stop online shop: www.sfpcables.com to explore more details.