10Gtek's SFP+ Copper Transceiver for 10G Application
Date:
2020-01-11 09:54:00
Author:
Urbanus
Tag:SFP+,Transceiver,Copper,10GBase-T
Besides fiber optic cables, 10G SFP+ transceivers can transfer data over copper cables. This kind of SFP+ transceiver is equipped with a RJ-45 interface, as the below figure shows. It is called Electrical Transceiver or 10GBase-T SFP+ Copper Transceiver. With cat6, cat6a or cat7 copper cables, 10GBase-T SFP+ transceiver could make a link length up to 30 meters.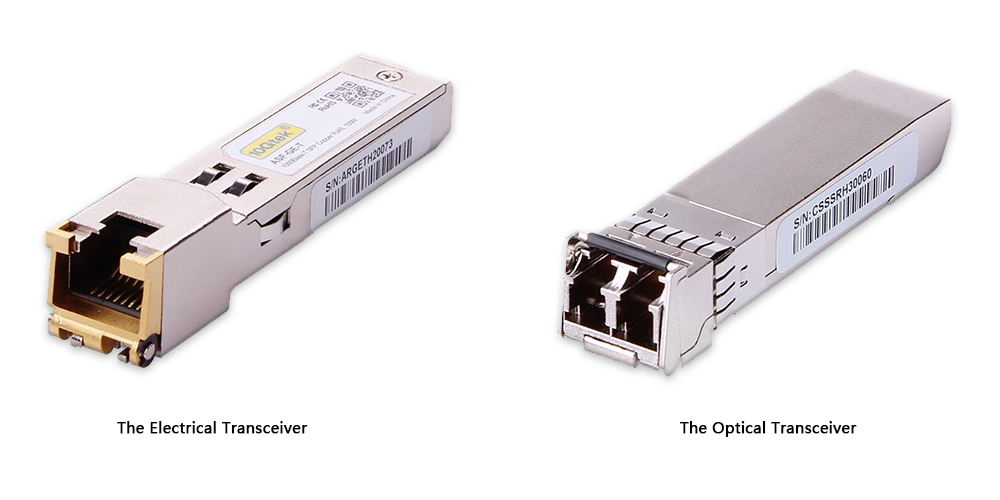 10G SFP+ copper transceiver has the feature of high performance and good reliability, which is a cost-effective I/O solution for 10G Ethernet and 10G Fibre Channel applications mostly. 10GBase-T SFP+ copper transceiver is mainly used in Cat6, Cat 6a or Cat 7 copper cabling system for 10G transmission with a maximum distance up to 30m. In addition, compared with SFP+ DAC cable, 10GBase-T copper SFP+ transceiver can save at least 0.5W power consumption, and its port can both support STP (shielded twisted pair) and UTP (unshielded twisted pair). 10GBase-T SFP+ copper transceiver is becoming more and more popular in network switches and servers because of its lower power consumption and pay-as-you-grow flexibility.
As a professional manufacture of optical transceiver, 10Gtek released this product early in 2016. Since then, 10Gtek has always been a marketing leader. With regard to SFP+ copper transceiver, 10Gtek has a huge shipment, occupying the 80% of the total shipment in China.
When referring to optical transceivers, vendors compatibility is always an issue that shall be concerned about. 10Gtek provides the compatible service for SFP+ copper transceiver. 10Gtek's 10GBase-T SFP+ copper transceivers are tested compatible with major brands like Cisco, Juniper, Dell, Brocade, Arista, Huawei etc.
In case you are looking for 10GBase-T SFP+ copper transceivers, you could get access by 10Gtek one-stop online shop or Amazon. The one stop online shop www.sfpcable.com is highly recommended for the technical support is provided on the website.
About Us
10Gtek designs, manufactures and sells optical communication products, including Fiber Optic Transceiver, DAC, AOC Cables and so on. 10Gtek takes great pride in its compliance with global industry standards and environmental compliance, such as UL, CSA, ISO14001, RoHS, ect. If you want to know more about our innovative product: the QSFP28 to QSFP28 cage, please no hesitate to contact us by E-mail : info@10gtek.com or visit our official website: www.10gtek.com and one-stop online shop: www.sfpcables.com to explore more details.