10Gtek's NVMe SSD Adapter: New Generation , High Capability Storage Solution
Date:
2020-01-14 13:54:45
Author:
Urbanus
Tag:PCIe, PCIe switch, NVMe, NVMe SSD, Storage
Since NVMe technology has initiated, NVMe SSDs quickly occupy a part of SSD market with the advantage of low-latency and high performance. When it compares to traditional SATA SSDs, NVMe SSDs can be called a huge boost, especially in the field of enterprises data storage application.
Today, we are going to talk about a brand new data storage solution involved NVMe SSD. But before that, let's learn some background knowledge.
As for NVMe technology, there are many reference articles on a blog where you can get a deep acquaintance about it. To put it simply, NVMe is the protocol for SSDs using PCIe as the data transmission I/O channel, replacing the former AHCI. It reduces I/O overhead and brings various performance improvements relative to previous logical-device interfaces, including multiple long command queues, and reduced latency.
In general, there are three main kinds of NVMe SSDs by form factor: AIC, U.2 and M.2. Below figure shows the most common SSD form factors. Some of them are SATA SSDs, while some of them belong to NVMe SSDs, which include AIC, U.2 and M.2.
Let's learn more about them one by one.
1. AIC SSD
AIC means add-in card. Almost all early NVMe SSDs are HHHL(Half Height Half Length) or FHHL (Full Height Half Length) AIC, with a PCIe 2.0 or 3.0 interface. Because it has the PCIe interface on itself, a HHHL AIC NVMe SSD is easy to adapt to insert in to the PCIe port of a server.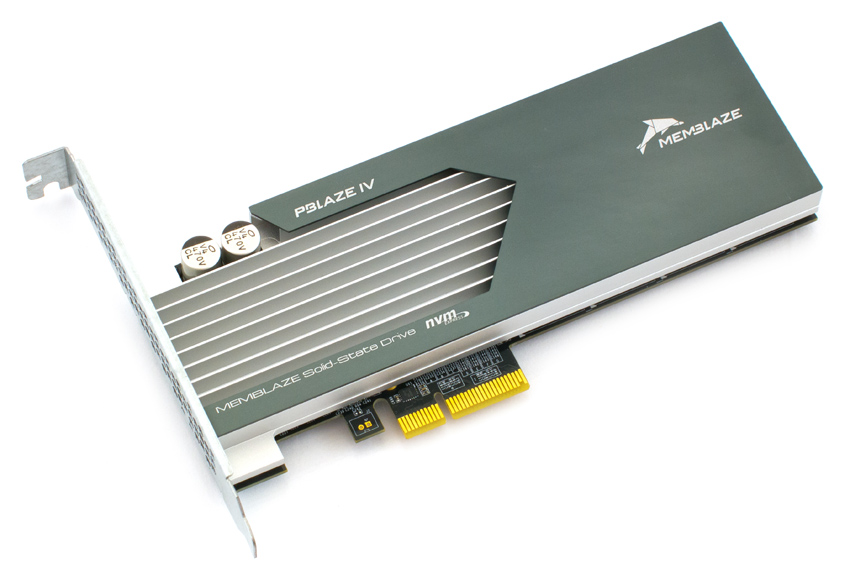 AIC SSD with PCIe x4
(Source:Internet)
2. U.2 SSD (SFF-8639)
SFF-8639, the later name is U.2, is a form factor of NVMe SSDs. When you realize that U.2 is compatible with SAS and SATA(as the below figure shows), it is not surprising that it has a similar name with SAS standard.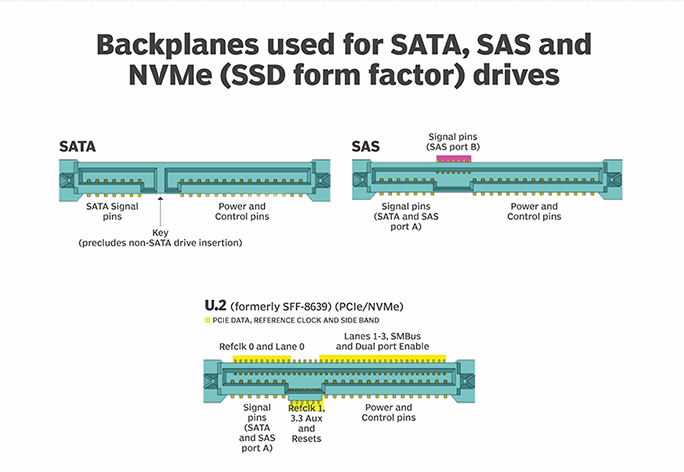 Here is an example of U.2 SSD. It is not like the AIC SSD, which is directly inserted into motherboard. U.2 SSD needs a direct-attached cable(DAC) to make a connection with a server, which we talk about later.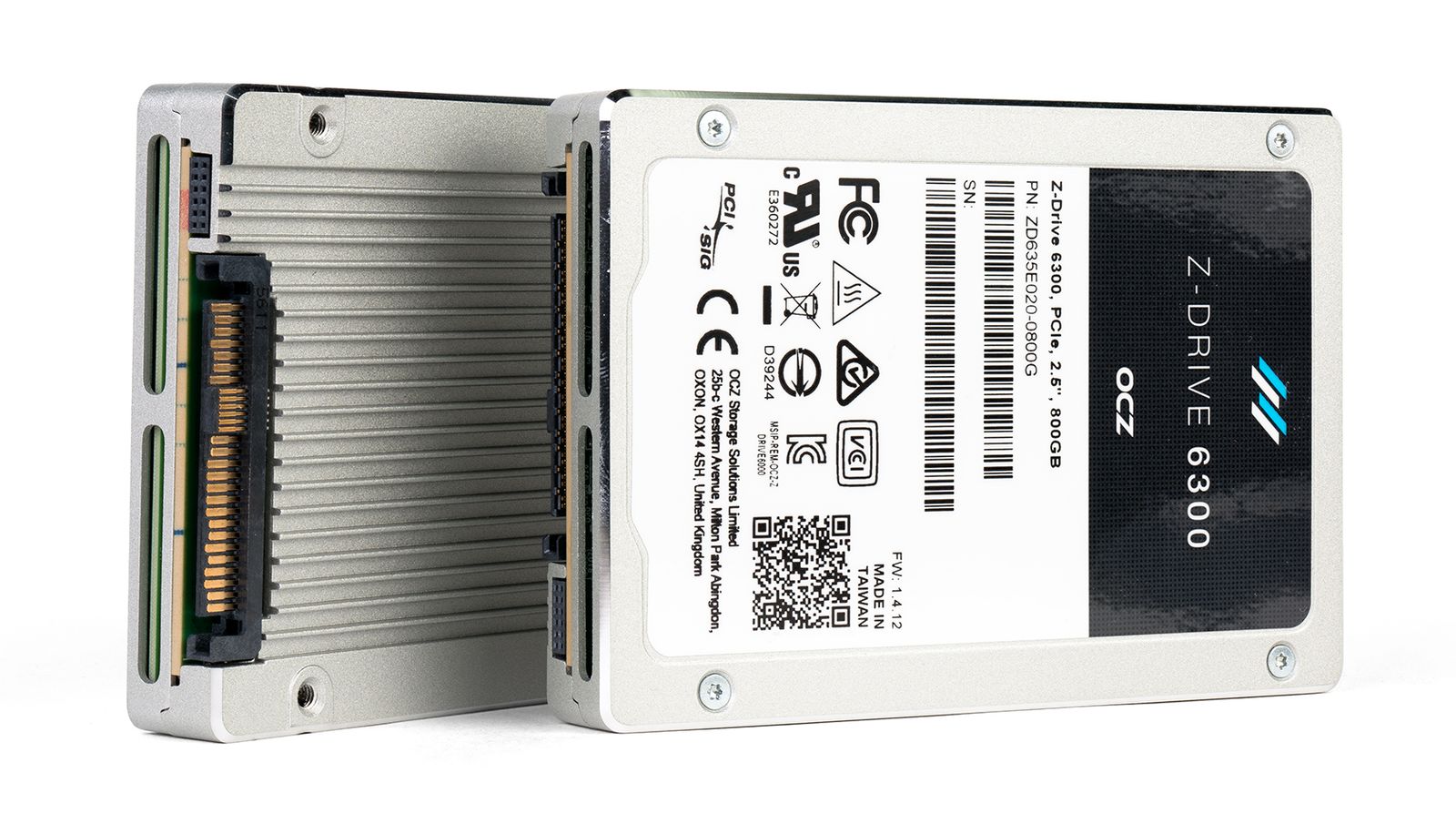 SSDs with U.2 interface
(Source: wikipedia)
3. M.2 SSD
M.2 is another form factor of NVMe SSD. Compared to U.2 SSD, M.2 SSD has more flexible physical and modularized specification, which allows more extensive possibilities.
In reality, there are a lots of motherboards that integrate one or more M.2 ports, which means a independent M.2 SSD can directly insert into a motherboard.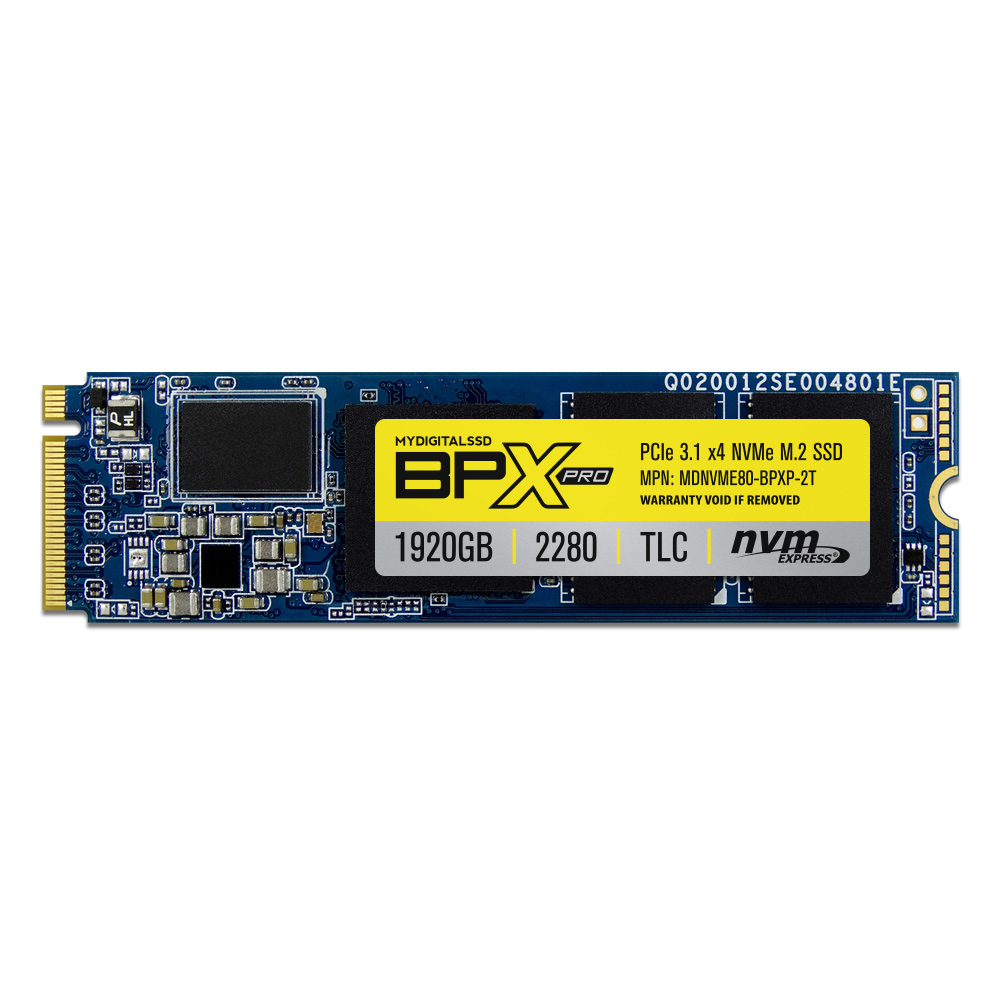 M.2 SSD with PCIe x4 interface
(Source: Internet)
How to make U.2 and M.2 SSD connect to a server?
AIC SSDs can be directly insert into a server's motherboard. As for enterprises, it lacks extendibility. It seems that U.2 and M.2 SSDs have more extensive solutions in data storage application. But how to make them connect to a server?
1. U.2 SSD connection solution
Due to the compatibility with SAS and SATA, the operation of U.2 SSD is almost the same with SAS drives or SATA drives. It requires a PCIe to SFF-8643 adapter and a SFF-8643 to SFF-8639 cable to make the connection. This kind of cable has one more power connector connecting to the SATA electric, in order to provide electrical power.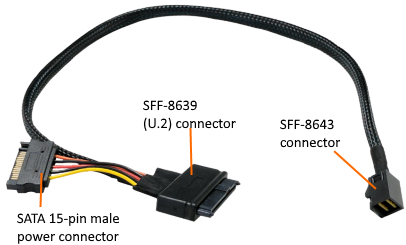 (Source:Internet)
Besides cable, the another thing is our new product: PCIe Switch Adapter for U.2 SSD.
In order to add more drives and enlarge storage space, the PCIe Switch Adapter for U.2 SSD provides varieties solutions. For example, there are PCIe x8 to two SFF-8643 connectors and PCIe x16 to four SFF-8643 connectors, based on different bandwidth capacity.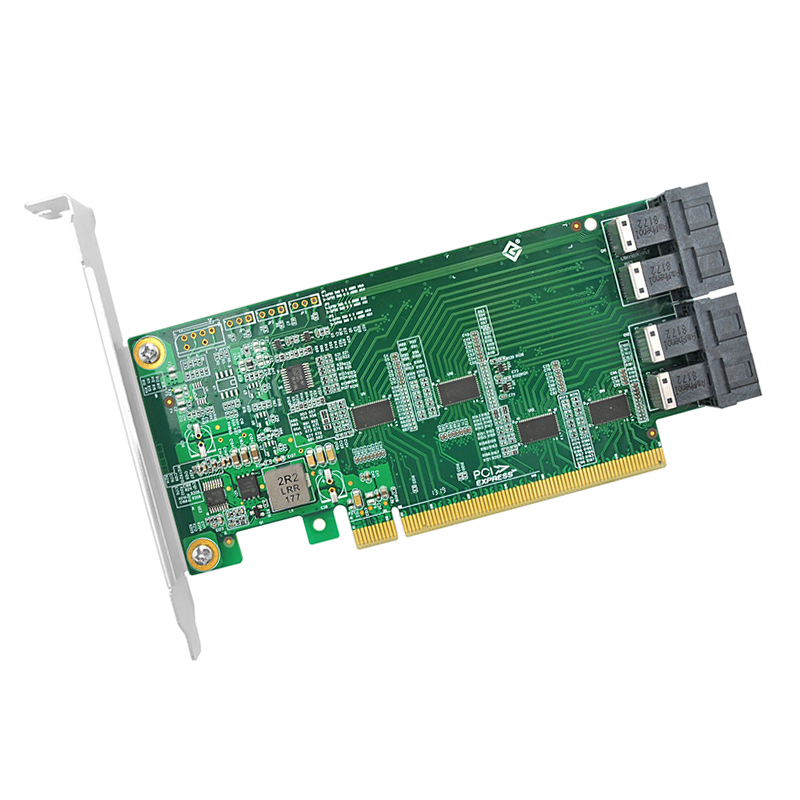 PCIe Switch Adapter for U.2 SSD, PCIe x16, Dual 8643 connectors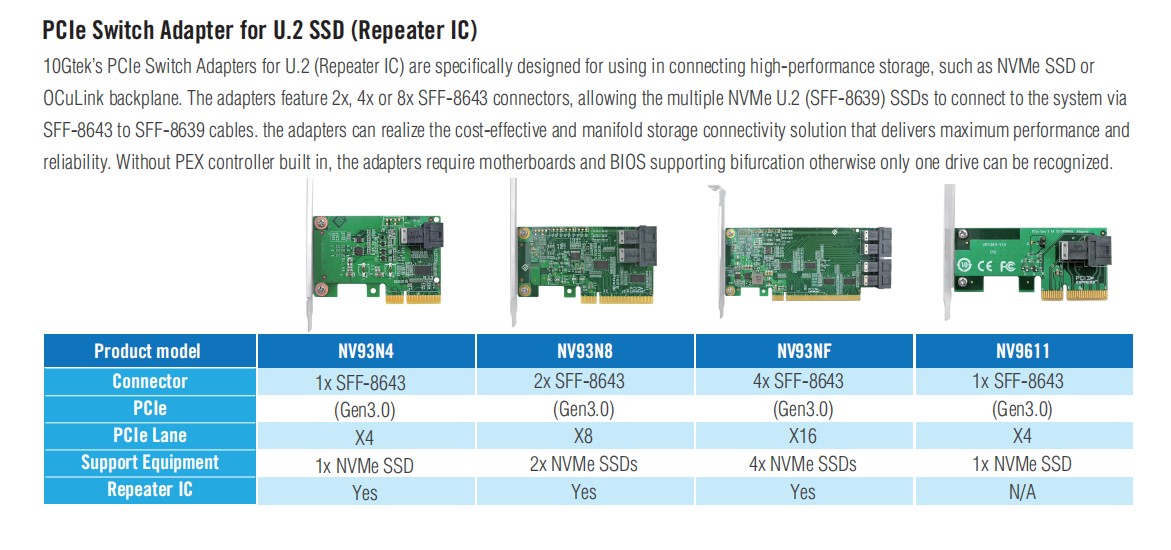 Due to PCIe lane features, those kinds of PCIe switch adapters require motherboard or BIOS support PCIe bifurcation otherwise only one SSD module can be recognized. For those who motherboard doesn't support , we recommend the PCIe switch adapter with PEX controller. With the help of PEX controller, the PCIe switch NVMe adapter can recognize the number of SSD accurately and work properly when connecting more than one SSD module to the system.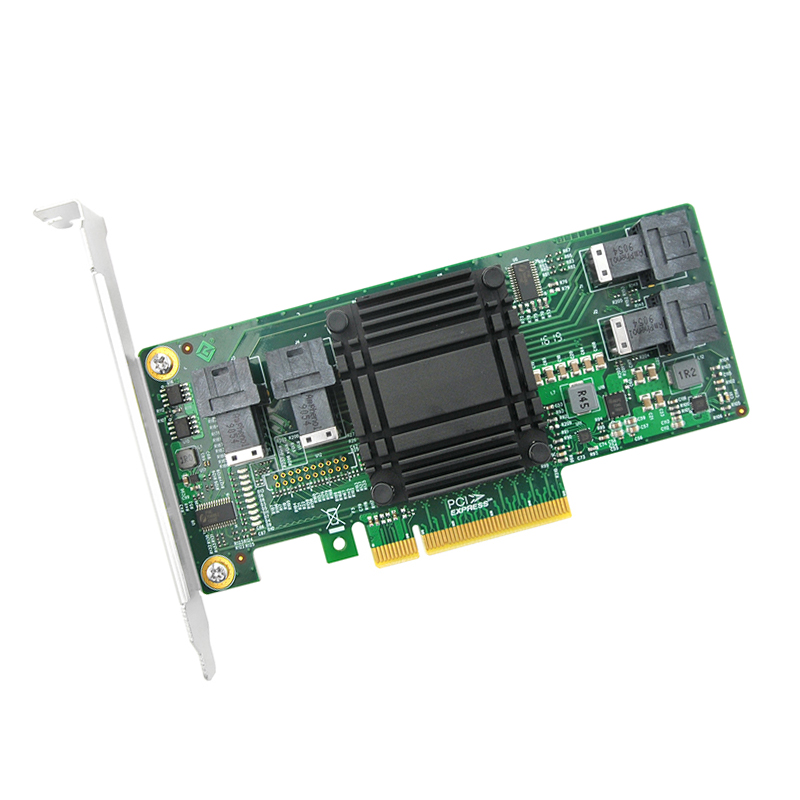 10Gtek PCIe Switch Adapter, PCIe x16, Up to 8x NMVe U.2 SSDs Support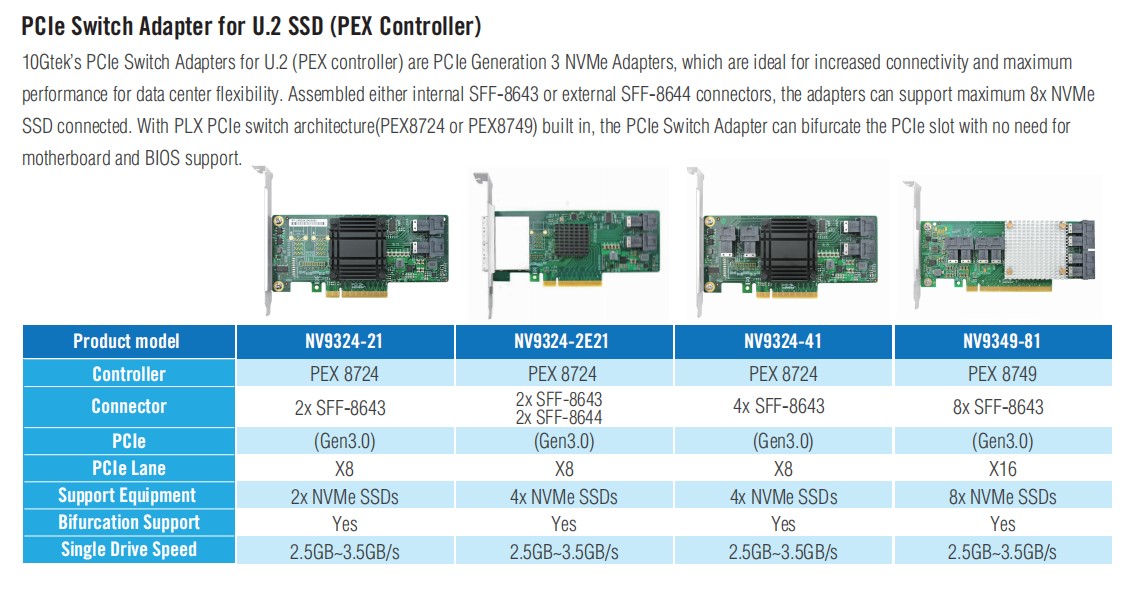 2. M.2 SSD connection solution
On some occasion, the server's motherboard provides M.2 ports. So M.2 SSDs can directly insert into the motherboard. But what if the motherboard doesn't have a M.2 port? An adapter can be introduced at this time. Just as the figure shows, the adapter is the intermediary of transition between SFF-8638 (U.2) and PCIe (M.2). This adapter solves the problem that motherboard without M.2 port can't connect to M.2 SSD, but it seems so inconvenient and must require so many cables. If we want to add some new M.2 SSD to our network, it will be a new trouble.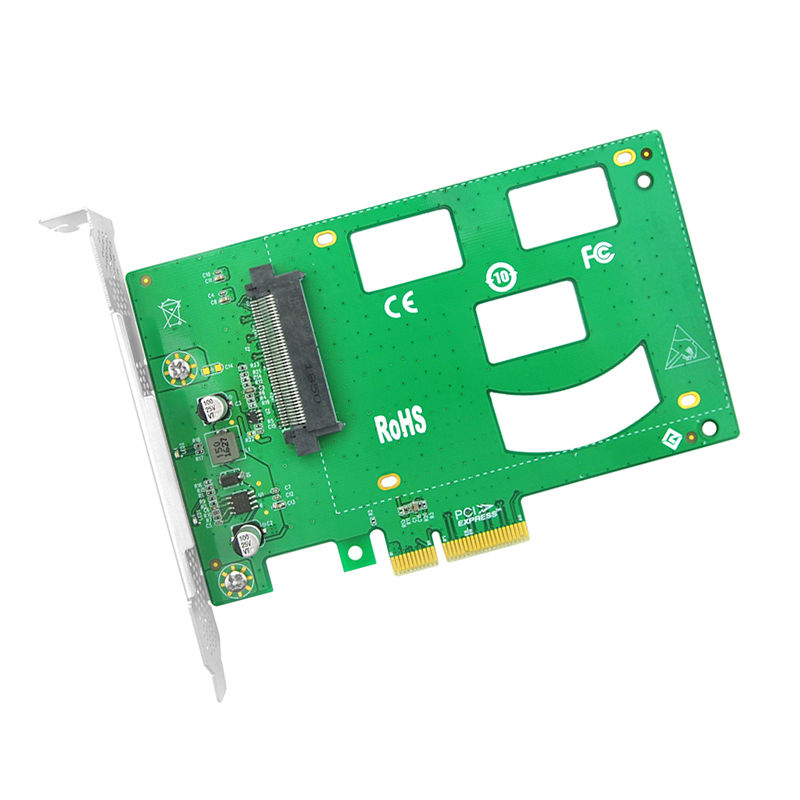 10Gtek PCIe to U.2 NVMe Adapter
NVMe SSD Adapter for M.2 SSD: new generation, high capability
In order to solve these troubles, a new and more comprehensive product can be introduced. It is a PCIe NVMe Adapter that integrate one or more M.2 interfaces. Based on the number of SSDs, PCIe interface is changeable for exerting best performance. For example, one M.2 SSD must integrate x4 PCIe interface, while two M.2 SSDs must integrate x8 PCIe interface. And four M.2 SSDs must integrate x16 PCIe interface. Besides, this series also provide the PEX controller options, which provide the PCIe bifurcation itself.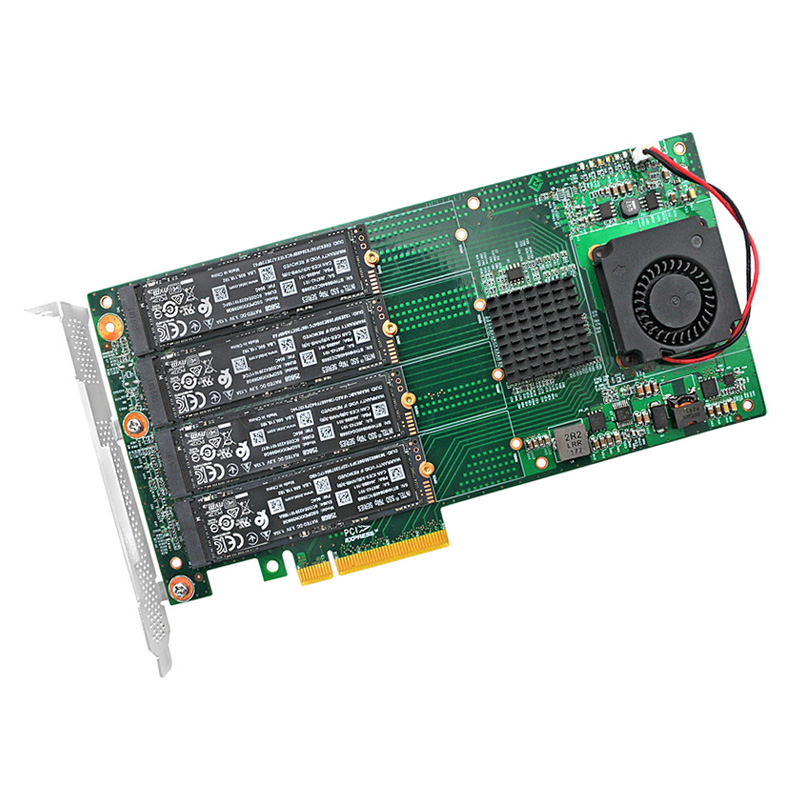 10Gtek NVMe SSD Adapter for M.2 SSD with PEX8724 controller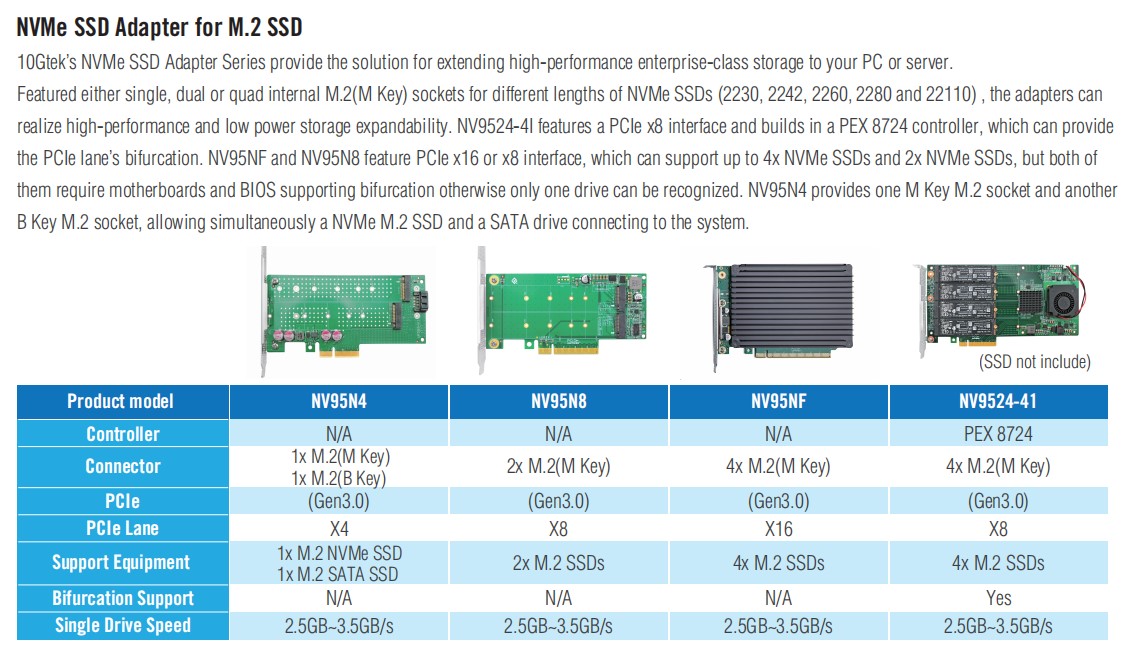 No matter operating U.2 SSD or M.2 SSD at hand, the NVMe SSD adapter can realize the high performance and capability storage expansion, which are ideal for increased connectivity and maximum performance for data center flexibility.
If you are interested in any of those new product above, please no hesitate contacting with us. You can find more information on our website:
About Us
10Gtek designs, manufactures and sells optical communication products, including Fiber Optic Transceiver, DAC, AOC Cables and so on. 10Gtek takes great pride in its compliance with global industry standards and environmental compliance, such as UL, CSA, ISO14001, RoHS, ect. If you want to know more about our innovative product: the QSFP28 to QSFP28 cage, please no hesitate to contact us by E-mail : info@10gtek.com or visit our official website: www.10gtek.com and one-stop online shop: www.sfpcables.com to explore more details.