How does PoE Change the Network Architecture
Date:
2017-09-12 11:52:35
Author:
10Gtek
Tag:
PoE (Power over Ethernet) is a mature technology being widely applied in communication industry nowadays, it aims to solve the trouble of power supply because devices without PoE basically need a power cord other than another cord to transmit data. There are various Power Source Equipment (PSE) like PoE switch, PoE injector, PoE media converter can be used to achieve PoE network. Here is some basic knowledge about them.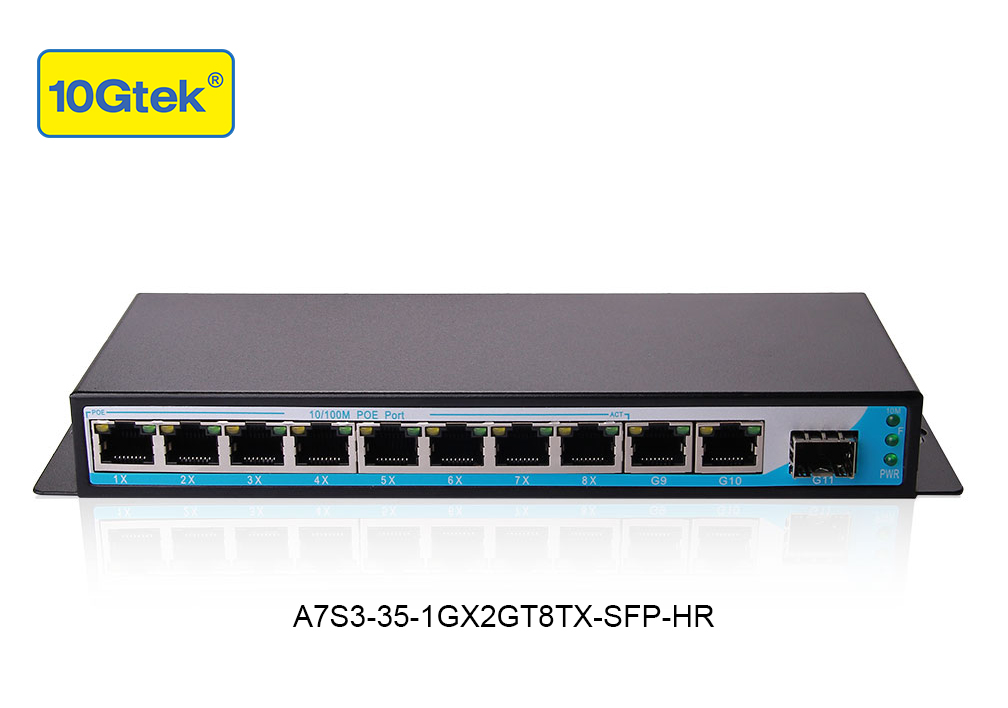 PoE Technology Overview
The IEEE standards for PoE require category 5 cable or better for high power levels but allow using category 3 cable if less power is required. Power is supplied in common mode over two or more of the differential pairs of wires found in the Ethernet cables and comes from a power supply within a PoE-enabled networking device such as an Ethernet switch or can be injected into a cable run with a midspan power supply. A midspan power supply, also known as a PoE power injector, is an additional PoE power source that can be used in combination with a non-PoE switch.
PoE Networking Architectures
A typical PoE system consists of a PSE and a Power Device (PD.) The PSE may generally be a PoE switch (Endspan) or a PoE hub/injector (Midspan). PSE can also be PoE fiber media converter which provides power to network devices over existing Ethernet cabling and leverage the benefits of fiber. PD is usually a PoE-enabled terminal device such as an IP phone, surveillance cameras, or wireless access point, etc. Thus, there are three types of PoE networking architectures based on different PSE:
1.Endspan PoE Switch + PDs

2. Ethernet Switch (RJ45 port) + Midspan Power Injector or Hub + PDs

3. Ethernet Switch (SFP port) + PoE Fiber Media Converter + PDs

The application of PoE has now become a trend in the industry because every single convenience could accumulate to be a huge benefit for the maintenance in the future, that's quite important for clients who have to manage a network with increasing capacity.
10Gtek concerns what clients concern and has been satisfying clients worldwide for many years by outstanding quality and service. Almost all the compatible products like the transceiver, DAC, AOC could be found on the 10Gtek's official store SFPcables.com and 10Gtek's Amazon store.
Related Articles:
3 Things You Need to Know Before Purchasing a PoE Switch