Why Compatible Module is Better Than OEM Module
Date:
2017-08-07 10:56:55
Author:
10Gtek
Tag:
Some of you might have doubted the compatible module out of worries like security, compatibility, quality etc. Actually, there is no thing to worry about as long as having a reliable compatible manufacturer like 10Gtek. Let's see why the compatible module is better than OEM module.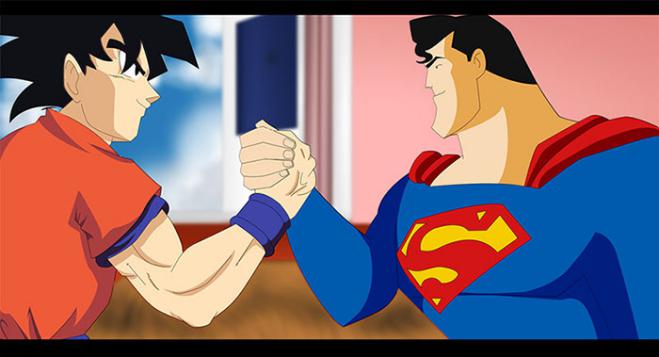 Arm wrestling between compatible and OEM.
1. Compatible modules are way cheaper than OEM module, but why?
Original brand switch companies generally don't make cables or optics. They rely on two or more manufacturers to make transceiver modules for them and then rebrand the module and every other related part with their own logo.
Take a 10GBASE-SR SFP+ as an example, let's suppose the MSRP(Manufacturer Suggested Retail Price) is $20, but the fact is a customer has to spend $100 to get an OEM module from the reseller. If the customer buys directly without the OEM branding, it will charge only $16 from the compatibles vendor. How could this happen?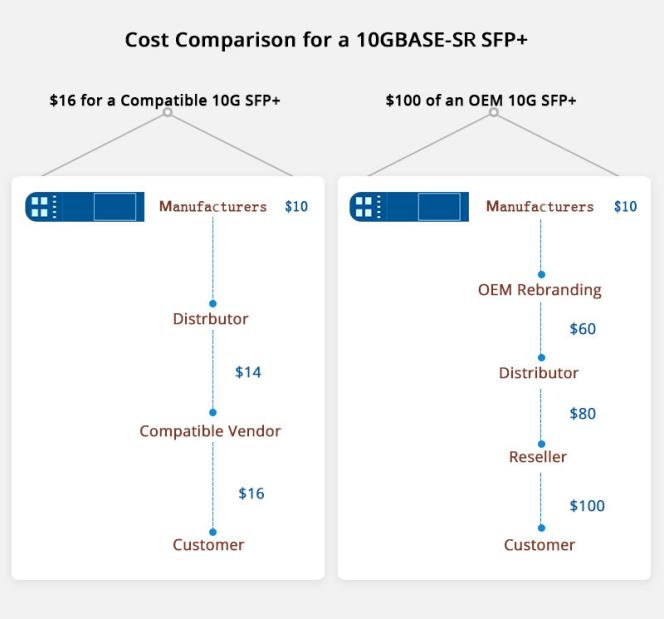 After OEM rebranding, the module price is much more expensive.
It is incredible for the customers to pay extra $94 only for an OEM logo on the module and the end cap, right? So OEMs bring up the issue about the additional compatibility test.
2. The qualified compatible module should have been tested.
The compatibility issue is brought up by OEMs after they add enhancements on the standardized module, such as changing the link establishment sequence(i.e. the port knock), verifying legitimate parts with encryption keys, along with performing white-listing of parts in the NOS. So that OEM switches will only accept modules that are correctly coded.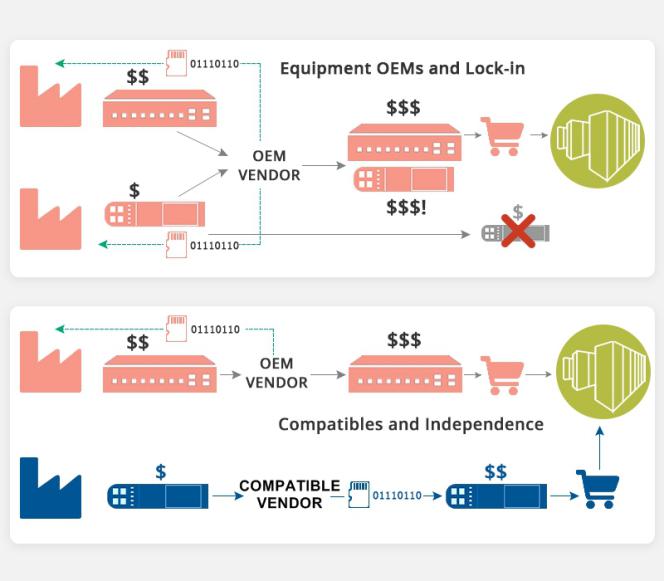 The compatible module is more cost-effective compared with OEM module.
Good compatible vendors are able to code the transceiver by themselves and test each module in OEM switch and according to the latest software release notes.
3. Compatible Module could be used on Different OEM Switches.
Yes, compatible products have the potential. Actually, good compatibles vendors are able to make multi-coded compatible products that can support different pieces of OEM equipment. One benefit is that service providers can reduce the number of backup components stored in a data center.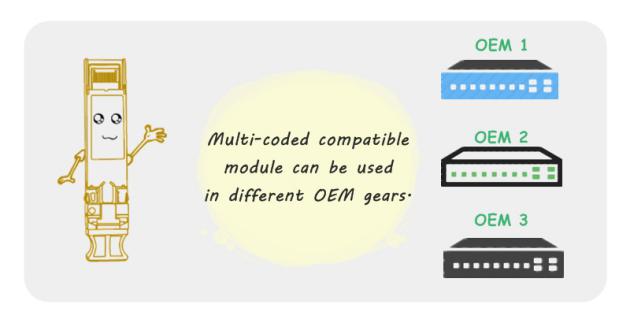 The multi-coded compatible module can be used in different OEM gears.
4. Compatible modules could be improving over time.
One more benefit of buying compatible module is that customers can buy a product with better performance(such as increased power efficiency, a clearer signal) since manufacturers will keep improving its products during the lifespan of the product. But if the modules were from the OEMs, any advancement will not be made over time since the production of OEM module is based on a fixed mode.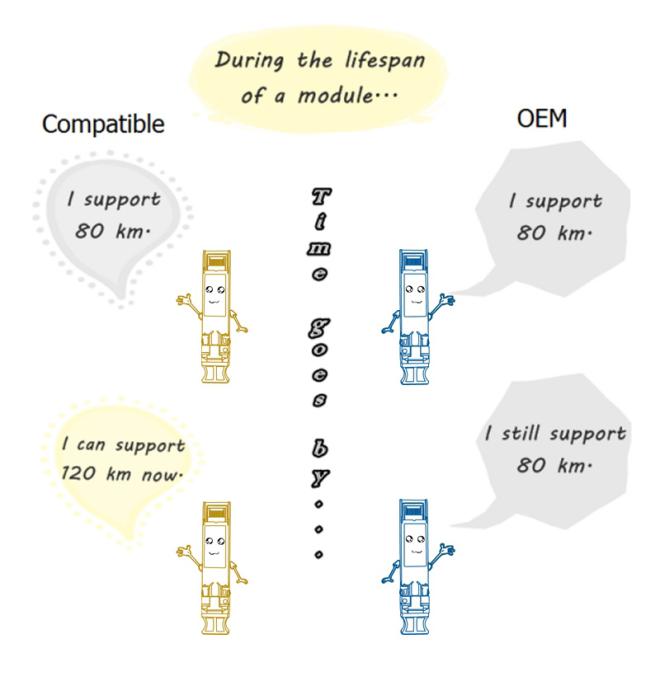 Optics manufacturers make continuous improvement for the compatible module during the lifespan of it.
After reviewing questions above, it is not difficult to draw the conclusion that compatible module is better than OEM module not just for its cost, but in every aspect that concerns a cost-effective and high-performance optical transceiver.
10Gtek is a professional manufacturer in Shenzhen, China, providing compatible optical modules, DAC, AOC, switch, and related accessories to customers worldwide. For more information please visit www.10gtek.com or browse http://www.sfpcables.com/.
Related Articles:
10Gtek Releases SFP+ 10GBASE-T Copper Transceiver
How to choose 40G QSFP+? AOC, DAC or Transceiver?