How to achieve up to 80km transmission with 40G QSFP+?
Date:
2017-05-16 21:30:31
Author:
10Gtek
Tag:
For data transmission, there is always a need for faster, longer transmission. With data rates growing up from 1G, 10G to 40G, 100G and even 400G, we can say the world is becoming smaller and smaller, and things are changing faster and faster with modern technology. However, with data rates growing up, transmission distance has not been growing as satisfactory as expected. Under 1G transceiver, max transmission distance can reach as far as 160km, and 120km under 10G transceiver. However, under 40G QSFP+ transceiver, the max distance is only 30km using a QSFP+ ER transceiver, which is quite disappointing.

For customers who have a need to transmit longer distance under 40G, where to turn to for help?
The answer is simple: come to 10Gtek, they have a cost-effective solution for you.
10Gtek developed a QSFP+ Extender to support customer with up to 80km transmission.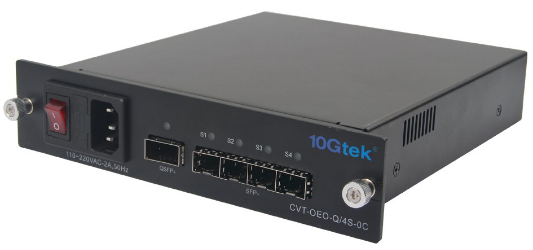 This extender is designed and manufactured to fully meet QSFP+ MSA standard with working temperature: 0°~70°C and Power supply 4A, 3.3V. It has 1x QSFP+ port and 4x SFP+ ports. The QSFP+ port can be connected with customer's QSFP+ ports using a QSFP+ DAC or AOC cable or QSFP+ transceiver. The 4x SFP+ ports are designed to connect with SFP+ ER to achieve up to 40km transmission and connect with SFP+ ZR for up to 80km transmission. This extender has a embedded fun inside for cooling, so the extender won't get too hot with long-time operation.

A 2-slot 1U chassis as below is usually used together with this QSFP+ extender. One such chassis can hold two 10Gtek QSFP+ extenders. It is recommended to use only 10Gtek's 1U chassis with this extender, because the dimension of 10Gtek's 1U chassis is carefully measured to fit for this extender. The extender can also be rack-mounted with the two screws to make your application more tidy and convenient.

Another application for this extender is to Save Fiber, see below:

Ordering Options:
Like DAC cables, this extender also has passive design (PN: CVT-OEO-Q/4S0C) and active design (PN: CVT-OEO-Q/4S1C).
The difference between CVT-OEO-Q/4S0C and CVT-OEO-Q/4S1C is, in CVT-OEO-Q/4S1C, we add a CDR (clock data recovery) inside to enable the extender support longer distance with better performance. Whether to choose CVT-OEO-Q/4S0C or CVT-OEO-Q/4S1C is up to the Signal Integrity performance of your connecting switches. If your switch's SI performance is good enough, CVT-OEO-Q/4S0C is recommended, because the cost is much lower than the CVT-OEO-Q/4S1C.
Special notice when using 10Gtek QSFP+ extenders:
When using with CVT-OEO-Q/4S0C, if connect the extender with your 40G switches using a QSFP+ DAC cable, the maximum length for the QSFP+ DAC cable recommended is 0.5 meter. Longer DAC cables may affect the performance or even lead to link issues. A QSFP+ AOC cable or QSFP+ transceiver is a good choice if you'd like to link up longer. Till now, no issue is found using a AOC cable or transceiver for the 40G link with either the CVT-OEO-Q/4S0C or the CVT-OEO-Q/4S1C.
When using with either CVT-OEO-Q/4S0C or CVT-OEO-Q/4S1C, make sure your switch is configured in 4 x 10G mode instead of 1 x 40G mode. Because both extenders are designed as a breakout 4 x 10G extender.
Both CVT-OEO-Q/4S0C and CVT-OEO-Q/4S1C can be used with both standard SFP+ ZR, and SFP+ CWDM 80km optics to achieve 80km transmission. Power consumption depends on the transceivers inserted instead of the extender.
Products recommendation:
40G QSFP+ Transceiver: QSFP+ SR4, QSFP+ eSR4, QSFP+ LR4, QSFP+ IR4, QSFP+ ER4;
40G QSFP+ AOC: 1M, 3M, 5M, 7M, 10M, 20M, 50M, 100M;
                                40G QSFP+ to 4xSFP+ Breakout AOC
40G QSFP+ DAC: 1M, 2M, 3M, 5M, 7M, 10M;
                                40G QSFP+ to 4xSFP+ Breakout DAC
10G SFP+ Transceiver: SFP+ SR, SFP+ LR, SFP+ ER, SFP+ ZR
For more information or support, please contact 10Gtek directly.
More articles:
How to choose 40G QSFP+? AOC, DAC or Transceiver?
How to choose a 40G QSFP+ Transceiver?
Differences among PVC, LSZH and OFNP cables