FAQs about 10GBASE-T (10Gb/s Copper Transceiver)
Date:
2020-03-17 14:58:03
Author:
10Gtek
Tag:
1.How to connect 10 Gigabit Ethernet CNA/NIC Intel X550 with 10GbE switches?
Answer: Intel X550 is a kind of 10GbE converged network adapter, with RJ-45 ports. But most of 10GbE switches are with SFP+ ports. Port RJ-45 and port SFP+ can't be linked directly. That is, we need a port converter to convert SFP+ to RJ-45. 10G copper transceiver is that kind of "converter". Deploying 10GBASE-T transceiver and CAT.6A cable, the interconnection of 10GbE NICs with RJ-45 port and 10GbE switches with SFP+ port can be realized.
2.What is the maximum transmission distance of 10Gb/s copper transceiver?
A: 30 meters, by CAT.6A cable.
3.Is it possible to use CAT.5E cable to link with 10GBASE-T?
A: No. The standard bandwidth of CAT.5E is 100MHz, and CAT.5E is designed to transmit signals below 90M. 10 Gigabit signal transmission requires a CAT.6A patch cable.
4.Is 10GBASE-T pluggable?
A: Yes. Please note that frequent plugging and unplugging may affect the working life of the module, so frequent plugging is not recommended.
5.Can the 10GBASE-T be used at low temperatures?
A: The 10GBASE-T is available in commercial and industrial versions. Standard products are suitable for operating temperature range of 0~70 °C. For a wider temperature range, it is recommended to purchase industrial modules.
6.What is the difference between a 10GBASE-T transceiver and a 10Gb/s media converter?
A: Both can achieve mutual conversion between 10 Gigabit electrical signals and optical signals. There are 3 main differences:
1.Different form factor: 10GBASE-T is on SFP+ form factor, with a small size; while 10GbE media converter is bulky and requires an additional power supply.2.
2.Different cost: compared to 10GbE media converter, 10GBASE-T is on a lower cost.
3.Different application prospects: 10GbE media converter is a transitional product. There was a market for it before the 10GBASE-T launched. When the 10GBASE-T transceiver can be delivered in batches, there was almost no market for the 10 Gigabit Ethernet media converter.
7.Can 10GBASE-T increase the network transmission rate?
A: No. The 10GBASE-T is just a photoelectric conversion converter that does not process the signal and does not increase the signal transmission rate.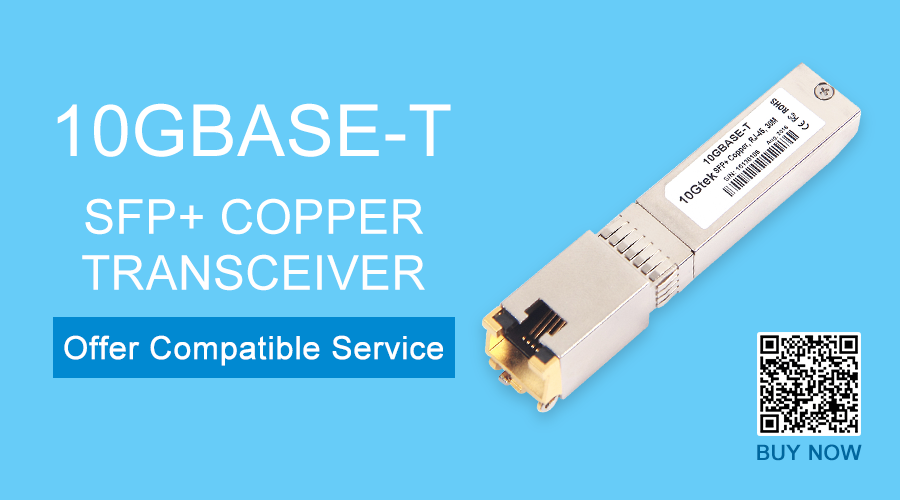 8.What should I pay attention to when purchasing 10GBASE-T?
A:
Multi-rate or single rate: There are 2 types of 10GBASE-T: one supports multi-rate (1~10Gb/s) and another supports single rate (10Gb/s) only.
Range of working temperature: The 10GBASE-T transceivers are available in commercial and industrial versions, with commercial version ranging from 0 to 70 ° C and industrial version from -45 to 80 ° C.
Different main chip: At present, the main suppliers of 10GBASE-T transceiver chips are Marvell and Broadcom. Marvell's chip solution is lower in cost and is currently used more commonly.
9.What is the difference between a 10 gigabit electrical transceiver and a 10 gigabit optical transceiver?
A: The 10G electrical transceiver is with the RJ45 interface and connected by a CAT.6A patch cable. The 10G optical transceiver generally adopts the LC fiber interface and uses fiber patch cable for connection.
10.What is a 10GBASE-T 10 Gigabit electrical module?
A: 10GBASE-T, 10 Gigabit electrical module is a device used to implement 10G Ethernet transmission in a Category 6 (CAT.6A) or Category 7 (CAT.7) copper cabling system. Its interface is RJ-45, which supports both shielded twisted pair and unshielded twisted pair. Its maximum transmission distance is up to 30 meters.
11.Is the heat generated when the 10GBASE-T is working?
A: The calorific value is very high. The designed power consumption of the 10GBASE-T is 1.5w. Its heat generation is very high, and the high temperature can be obviously felt during use. The switches with multiple SFP+ interfaces cannot be fully equipped with 10GBASE-T. As for the maximum number of 10GBASE-T that can be equipped with, it depends on the switch availability.
12.What is the difference between a 10GBASE-T and a SFP+ DAC(high-speed cable)?
A: The differences are shown in the following table:
| | | |
| --- | --- | --- |
| Name | 10GBASE-T | SFP+ DAC |
| Transmission Medium | RJ-45 patch cable (CAT.6A) | Direct-attach copper cable |
| Transmission Distance | 30 meters | 1-7 meters |
| Connector | RJ-45 | Integrated |
| Transmission Rate | | 10Gbps |
| Cabling System | Copper Cabling | N/A |
| Power Consumption | 1.5W | Hardly any |
| Price | $159/PC | $20/PC (two SFP+ connector) |
13.Can a 10 Gigabit electrical SFP+ module (10GBASE-T) be interconnected with a Gigabit electrical SFP module (1000BASE-T)?
A: Yes. There are a multi-rate version of copper transceiver, supporting 1-10 Gigabit.
14.Can a 10GBASE-T be used on a Gigabit switch?
A: No.