Introduction to 40GBASE QSFP+ Optical Modules
Date:
2018-09-11 14:55:52
Author:
10Gtek
Tag:
 40GBASE Optical modules are various of optical transceivers with 40Gbps transmission rate, in which the QSFP is the main form factor. And the 40G QSFP+ Modules are the most broadly applied optical transceivers. In this article 10Gtek will be introducing different network solutions of the most prevailing 40G QSFP+ transceivers to help you have easier understanding and better selection to the modules.
Features and Benefits of 40G QSFP+ Transceiver
? Hot-pluggable to 40G Ethernet QSFP+ port
? QSFP+ MSA compliant and interoperable with other IEEE-compliant 40G interfaces
? RoHS certified and verified superior performance, durability and reliability
? High-speed electrical interface based on IEEE 802.3ba compliant
? 4 Parallel lanes design of SR4, ESR4, PSM LR4 and PSM IR4
? 4 CWDM lanes MUX design of LR4, IR4 and ER4
? Low power consumption less than 3.5W
10Gtek 40G QSFP+

Part Number

Rates(bps)

Reach

Connector & Fiber

Temp.
(deg. C)

Pull Tab Color

 

44.8G

100m   (OM3)  150m  (OM4)

MPO/MMF

0~70

Black

 

44.8G

100m  (OM3)  150m  (OM4)

LC/MMF

0~70

Beige

 

44.8G

100m  (OM3)  300m  (OM4)

MPO/MMF

0~70

Black

 

44.8G

1.4km

MPO/SMF

0~70

Yellow

 

44.8G

150m  (MMF)  2km   (SMF)

LC/MMF  LC/SMF

0~70

Black

 

QSFP+ LR4 Lite

44.8G

2km

LC/SMF

0~70

Blue

 

44.8G

10km

MPO/SMF

0~70

Yellow

 

44.8G

10km

LC/SMF

0~70

Black

 

44.8G

30km

LC/SMF

0~70

Red
Table 1. 40G QSFP+ Transceiver Portfolio
Part Number

Power Consumption

Wavelength(nm)

TX Power(dBm)

Sensitivity
(dBm)

RX/ TX

<1.5w

850

-7.6~2.4

-12.0~-10.0

PIN/     VCSEL

<1.5w

850/ 890

-0.5~3.6

 

PIN/    FP

<1.5w

850

-7.6~2.4

-12.0~-10.0

PIN/     VCSEL

<3.5w

1310

-5.2~0.5

-12.5

PIN/    FP

<3.5w

CWDM

-5~3.5(MMF)           -7~2.3(SMF)

-10.5(MMF)                    -11.5(SMF)

PIN/    DFB

QSFP+ LR4 Lite

<3.5w

CWDM

-7.0~2.0

-11.5

PIN/    DFB

<3.5w

1310

-5.5~1.5

-11.5

PIN/   DFB

<3.5w

CWDM

-7.0~2.0

-11.5

PIN/  DFB

<3.5w

CWDM

-3.7~4.5

-20.2

APD/  DFB
Table 2. 40G QSFP+ Transceiver Optical Characteristics
40G QSFP+ SR4 and 40G QSFP+ ESR4 Transceivers
The signals' delivery of 40G QSFP+ SR4 transceiver are transmitted thru four independent full-duplex channels. MPO/MTP Connector is a criterion applied to the Transceiver in 40G data transmission, and MMF(Multi Mode Fiber) is required to operate over within the transceiver. When it's running over OM3 optical fiber jumper the transmission distance is 100m, while the reach can be 150m when it's running over OM4 optical fiber jumper.
40G QSFP+ ESR4 is the same operating principle as 40G QSFP+ SR4 but with a enriched distance of transmission up to 300m over OM4 optical fiber jumper. It can be considered as a upgraded version of 40G QSFP+ SR4 transceiver.

Figure 1. 40G QSFP+ SR4 8-fiber or 12-fiber MPO MMF Cable
40G QSFP+ BIDI Transceiver
The QSFP+ BIDI transceiver is developed to address the challenges of fiber infrastructure by providing the capability to transmit full-duplex 40G traffic over one duplex MMF cable with LC connectors(Figure 2). In other words, this transceiver supports 40G connection over one pair of MMF cables while allowing 40G to be deployed using the same infrastructure as 10G (10GBASE-SR) without the need to add any fibers.

Figure 2. 40G QSFP+ BIDI Duplex LC MMF Cable
Comparison of 40G QSFP+ BIDI and 40G QSFP+ SR4
40GBASE-SR BIDI transceiver removes 40G cabling cost barriers in data center networks. It provides immense savings and simplicity compared to other 40G QSFP+(MMF) transceiver(QSFP+ SR4). Moreover, it allows organizations to migrate the existing 10G cabling infrastructure to 40G at no cost and to expand the infrastructure with low capital investment.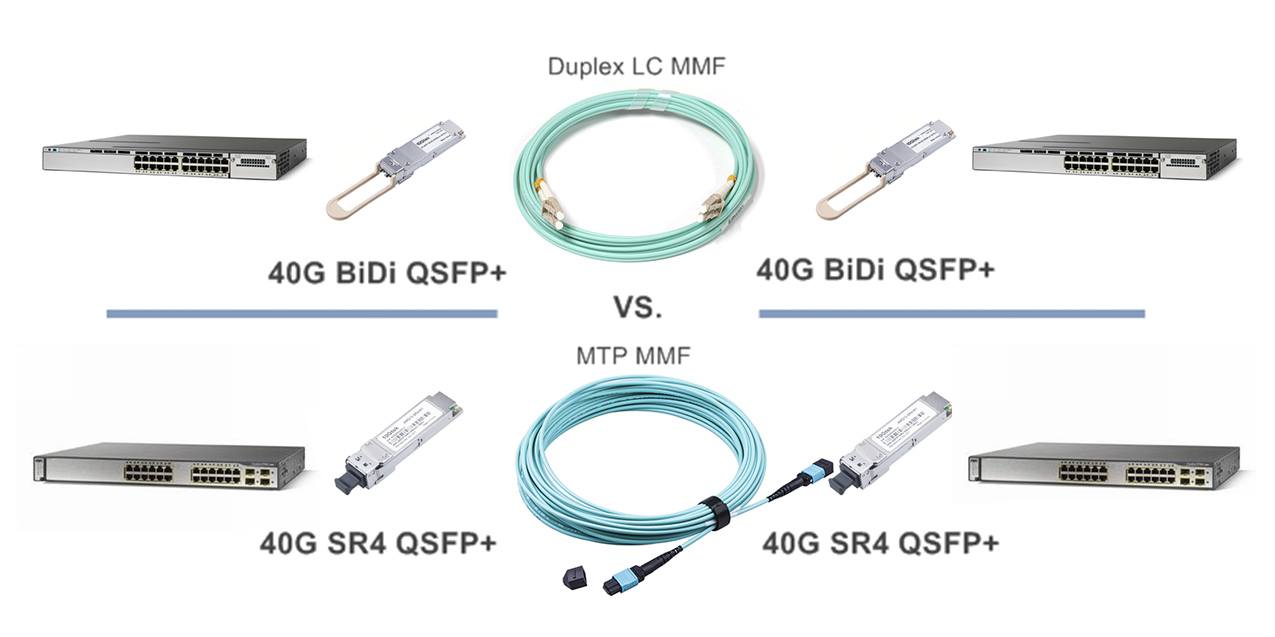 Figure 3. Direct Connection Between Two QSFP+ SR4 Transceivers and Two QSFP+ BIDI Transceivers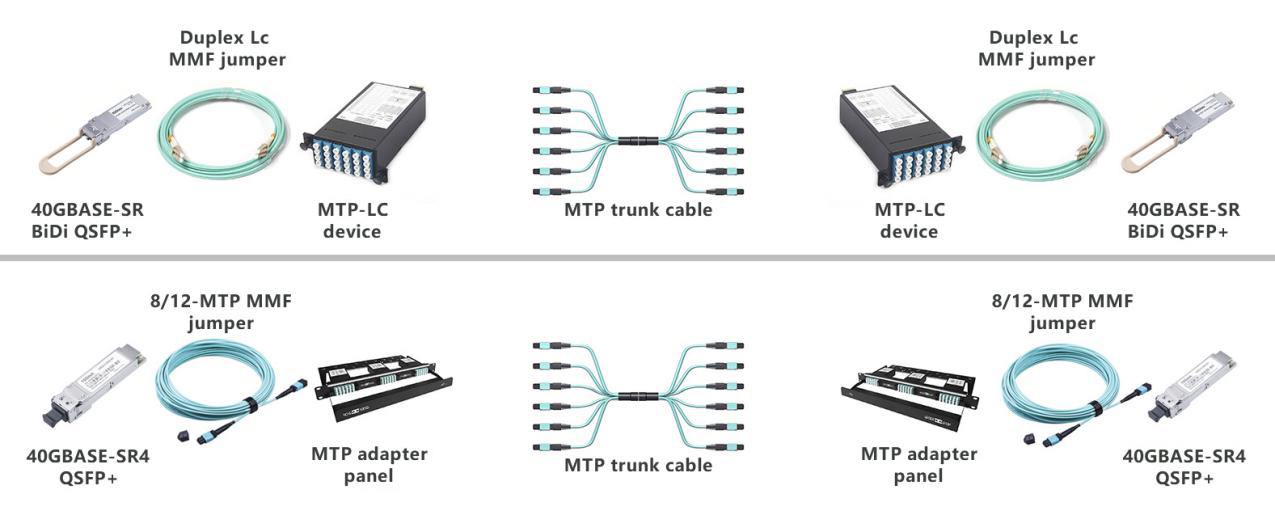 Figure 4. Structured Cabling Between Two QSFP+ SR4 Transceivers and Two QSFP+ BIDI Transceivers
40G QSFP+ PSM IR4 and 40G QSFP+ PSM LR4 Transceivers
QSFP+ PSM IR4/ LR4 is a highly integrated four-channel optical transceiver with the advantages of high density of port and lower cost. The optical port adopts a PSM(Parallel Single Mode) technology and a four-way parallel design MPO/ MTP interface which enable the transmission distance up to 1.4km of IR4 and 10km of LR4. It has been designed with form factor, optical/ electrical connection and digital diagnostic interface compliant with MSA(Multi Source Agreement), these features are quite feasible to meet the harshest external operating conditions including temperature, humidity and EMI interface.
The transceiver can run thru the I2C two-wire serial interface which is available to send and receive more complex control signals, and to receive digital diagnostic information. By comparison to 40G QSFP+ SR4 they are both in the same way of working but QSFP+ PSM IR4/ LR4 is operating over SMF(Single Mode Fiber) that is the parallel optical signals are delivered via eight single mode fibers.

Figure 5. Block Diagram of PSM Module
40G QSFP+ CWDM LX4/ LR4 Lite/ LR4/ ER4 Transceiver
Distinguished from DWDM i.e. Dense Wavelength Division Multiplex, CWDM known as Coarse Wavelength Division Multiplex is a innovative technology for transporting large amounts of data between sites. It increases bandwidth by allowing different data streams to be sent simultaneously over a single optical fiber network. In this way, WDM maximizes the utilization of fiber and helps to optimize network investments. 
QSFP+ LX4 is a optical module designed especially for operating over both SMF and MMF with transmission distance of up to 150m on OM4 MMF and 2km on SMF. The central wavelengths of the 4 CWDM channels are 1271nm, 1291nm, 1311nm and 1331nm as members of the CWDM wavelength grid defined in ITU-T G.694.2. There is a duplex LC connector for the optical interface and a 148-pin connector for the electrical interface. For applications over SMF, the transceiver is used as a QSFP+ LR4 Lite module and SMF cables are directly connected to the LC connectors of the module.    
QSFP+ LR4 Lite/ LR4/ ER4 Module supports the link length of up to 2km, 10km and 30km respectively by operating over a standard pair of G.652 SMF with duplex LC connector. Within the device the 40G Ethernet signals are transmitted over four wavelengths which are managed to multiplex and demultiplex. There are 4 data channels to transmit signals at the same time. At transmitting side the 4 channels of optical signals are combined together by multiplexer while at receiving end there is a breakdown processed into 4 channels of optical signals by demultiplexer. The module features high density, low cost, high speed, large capacity and low power consumption.

Figure 6. Block Diagram of CWDM Module
CWDM vs PSM, What's The Difference?
From an optical transceiver module structure viewpoint, PSM seems more cost-effective because it uses a single uncooled CW (continuous-wave) laser which splits its output power into four integrated silicon modulators. Besides, its array-fiber coupling to an MTP connector is relatively simpler. However, from an infrastructure viewpoint, PSM would be more expensive when the link distance is long, mainly due to the fact that PSM uses 8 optical single-mode fibers while CWDM uses only 2 optical single-mode fibers. A summary table comparing the key differences between CWDM and PSM is shown below:
| | | |
| --- | --- | --- |
|   | CWDM | PSM |
| Optical TX | 4 uncooled 1300nm CWDM directly-modulated lasers (20nm wavelength spacing) | 4 integrated silicon photonic modulators and one CW laser (uncooled 1300nm DFB laser) |
| 4-wavelength CWDM multiplexer and demultiplexer | Needed | No need |
| Connector | Duplex LC connector | MTP/MPO fiber ribbon connector |
| Cable | Via 2 optical single-mode fibers | Via 8 optical single-mode fibers |
Table 3. Differences Between CWDM and PSM Transceiver Links
Comparable with Third-Party QSFP+
All 10Gtek's 40G QSFP+ Transceiver is friendly compatible with third-party QSFP+ device, such as Cisso, Extreme, Brocade, Juniper, HP, Dell, Arista, Huawei and other known brands. Our 40G QSFP+ transceiver will give you a excellent solution to establish network connection without expensive cost. For further technical details you are suggested to download the documentations by refer to our official webs: www.sfpcables.com or www.10gtek.com
Conclusion
Based on above profile for 40G QSFP+ transceiver, do you have any idea to choose the module for what you need? If you have any questions, you are so much welcomed to contact us directly by E-mail info@10gtek.com or phone. Besides, 10Gtek's online shop is on hot sales right now, you may also browse our shop (www.sfpcables.com) and ask for help online.