What is 10GBASE-T SFP+ Copper Transceiver?
Date:
2018-07-17 13:37:06
Author:
10Gtek
Tag:
Introduction of 10GBASE-T SFP+ Copper Transceiver
10G copper SFP+ transceiver has high performance, good reliability and is a cost-effective I/O solution for 10G Ethernet and 10G Fibre Channel applications. 10GBASE-T SFP+ copper transceiver is mainly used in Cat 6a or Cat 7 copper cabling system for 10G transmission with a maximum distance up to 30m. In addition, compared with SFP+ DAC cable, 10GBASE-T copper SFP+ transceiver can save at least 0.5W power consumption, and its port can both support STP (shielded twisted pair) and UTP (unshielded twisted pair). Therefore 10GBASE-T SFP+ copper transceiver is becoming more and more popular in network switches and servers because of its lower power consumption and pay-as-you-grow flexibility.
10GBASE-T SFP+ Copper Transceiver vs SFP+ Optical Transceiver vs SFP+ DAC
SFP+ DAC, 10GBASE-T SFP+ copper transceiver and SFP+ optical transceiver are three common components used in 10G connections. The following chart reveals the differences between them.
 

10GBASE-T SFP+ Copper Transceiver VS SFP+ DAC
Direct attach cables (DAC) have been available and deployed since about 2007. For 10Gb/s data rates, they are implemented as a fixed length of Twinax cable with SFP+ plugs integrated at both ends. Passive versions can be used for connections up to 7m and active versions for connectivity up to 15m. A DAC is a low power, low latency connection offering "pay-as-you-grow" flexibility but can be awkward, because it is difficult to install through typical cable management. The degree of difficulty increases with DAC length. In addition to limited length, a DAC can be an expensive connectivity solution insomuch as it is does not take advantage of installed Cat 6a
structured cabling.
But The 10GBASE-T SFP+ transceiver module is compatible with SFF-8432 and plugs into any standard SFP+ cage. The front of the module features a standard RJ45 socket ready for connection to any Cat 6a cabling. And it can reach up to 30m over CAT6a UTP cable, sufficient for all network access use cases. What's more, The RJ45 connector interface is rock solid. No surprises will occur when deployed in your data center.
10GBASE-T SFP+ Copper Transceiver vs SFP+ Optical Transceiver
Short wavelength (850nm) SFP+ optical transceiver modules can be used for lengths up to 300m at 10Gb/s data rates, through 10GBASE-T SFP+ copper transceiver module is a power optimized solution for lengths up to 30m. In comparison, multi-mode fiber cabling is considerably more expensive than Cat 6a UTP.
SFP+ optical transceiver overall is not well suited for cost sensitive network edge applications. Field termination of fiber requires special skill sets and tools which significantly increase the complexity and cost of installation. But 10GBASE-T is compatibility with existing structured cabling devices and existing low-speed devices makes it uniquely suited for widespread deployment. These features, combined with superior cost and achievable features, make the simplest path of 10GBase migrate from Gigabit Ethernet to 10G Ethernet. 
Features of 10GBASE-T SFP+ Copper Transceiver
Cost effective at up to 30m distance on UTP cables
Extension of the life of any switch hardware, without having to change existing infrastructure
Architecture Flexibility: Supports Top of Rack, Middle of Row or End of Row architectures
Auto-negotiable backward-compatibility with previous-generation BASE-T networks for a seamless migration to 10GbE
Field twisted pair cabling with familiar RJ-45 connector
Support for multi-gigabit data rates up to 10 Gbps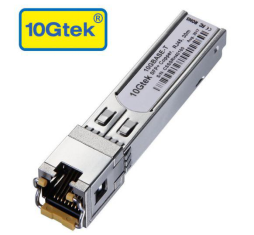 Conclusion
As 10GBASE-T network equipment becomes increasingly available, data center decision makers will want to take advantage of the cost savings, convenience, and flexibility provided by deploying 10 Gb/s technology over balanced twisted-pair copper cabling. Nowadays SFP+ 10GBASE-T transceiver, owing to the compatible issue with switches, is not offered by many vendors. However, from a network equipment designer's perspective, 10G copper SFP+ modules will become popular in the near future. 10Gtek.com has released 10GBASE-T SFP+ copper modules that are tested compatible with major brands like Cisco, Juniper, Dell, Brocade, Arista.