关于2017年7月14日引用匡国华博士的图文致歉
Date:
2018-02-06 10:21:50
Author:
10Gtek
Tag:
SFP-DD and QSFP-DD, 50G PAM4 for 200G and 400G are on the way


Recently, a group of industry suppliers gathered to form a new transceiver module form-factor or Multi-Source Agreement (MSA). The agreement aims to foster the development of the next generation of SFP form-factor used in DAC and AOC cabling as well as optical transceivers.
On July 12, 2017, a group of 14 companies was founded in Berlin Germany, named SFP-DD Multi-Source Agreement Group. The members include Alibaba, Broadcom, Brocade, Cisco, Dell EMC, Finisar, Hewlett Packard Enterprise, Huawei, Intel, Juniper Networks, Lumentum, Mellanox Technologies, Molex, and TE Connectivity.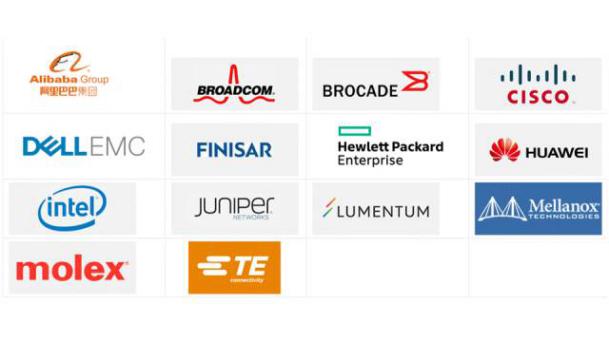 SFP-DD
The SFP-DD Multi-Source Agreement (MSA) Group has announced intent to develop the specification for a high-speed, double-density small form-factor pluggable (SFP-DD) interface. Under the MSA, participating companies will address the technical challenges of achieving a double-density SFP interface and ensuring mechanical interoperability for module components produced by different manufacturers. New SFP-DD based networking equipment will support legacy SFP modules and cables, as well as new double density products.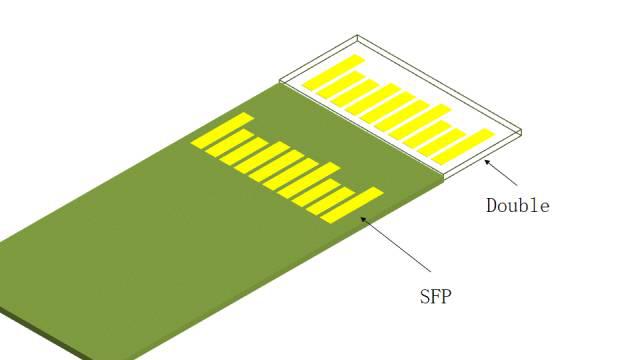 SFP-DD(我们错误的将此图标为10Gtek公司设计,这与事实严重不符。此图为匡国华博士所设计,引用自 https://mp.weixin.qq.com/s?__biz=MzA3NjU5OTE0Nw==&mid=2650743086&idx=1&sn=6cc47ba4252471dc33b1836652d7b701&chksm=87555b2ab022d23cb07f1e838f8834b308b778da4d330142beb062bd891e14e90a8af0bf6f44&mpshare=1&scene=1&srcid=0717BdiGbObRJBlYy7Nln23W#rd 在此向匡国华博士郑重道歉)
The "double density" refers to offering two rows of electrical pins enabling two-channels instead of the traditional one-channel in an SFP architecture - the smallest industry standard form-factor available today for data center systems.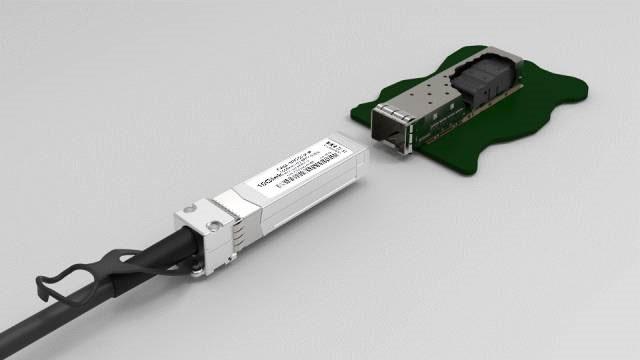 New designs offer improved EMI and thermal management and will enable 50G and 100G PAM4 signaling in each channel for 100G and 200G support and up to 3.5 Watts of thermal dissipation; the same as the current QSFP28 which is about 2.5 times larger than the SFP-DD.
The MSA members see the SFP-DD as a complement to the higher-capacity QSFP-DD form factor rather than as a replacement. For example, the primary initial application for the new optical modules will be server-side interconnect. Here an SFP-DD server port would complement QSFP-DD switch ports, including in breakout scenarios.
QSFP-DD
QSFP-DD is a new module and cage/connector system similar to current QSFP, but with an additional row of contacts providing for an eight lane electrical interface. It is being developed by the QSFP-DD MSA as a key part of the industry's effort to enable high-speed solutions.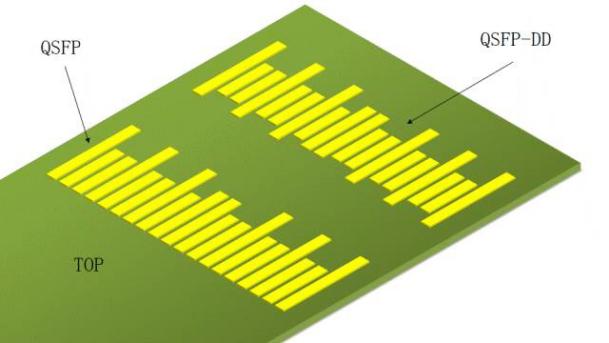 With the advent of new 8-channel form factors such as QSFP-DD, OSFP and COBO, a new 2-channel form factor was needed to enable 4-to-1 breakouts for servers and storage.
These time-tested data center Top-of-Rack breakout or splitter cable configurations can be maintained going forward to 400G with the SFP-DD in both copper DAC and AOC cables enabling supporting 10G, 25G, 50G, 100G and eventually 200G to the server such as:
40G QSFP+ -to-Quad 10G SFP+
100G QSFP28-to-Quad 25G SFP28
100G QSFP28-to-Dual 50G QSFP28
400G QSFP-DD-to-Quad 100G SFP-DD
400G QSFP-DD-to-Dual 200G SFP-DD
Servers today typically support one or two CPUs per server but are heading towards supporting four and eight CPUs per server in the future, with additional DRAM and FLASH on board and PCIe Gen4 at 16GT/s requiring more server uplink bandwidth. Today, 10G and 25G uplinks are popular and some hyperscale companies also require 50G uplinks. At four and eight CPUs per server, 100G and 200G uplinks will be required.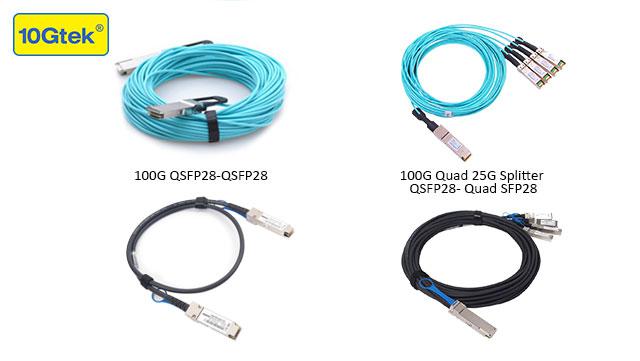 10Gtek introduced two new 100G AOCs breakout cables that feature 100G-to-Quad 25G SFP28 and 100G-to-Dual 50G QSFP28. They are also available in copper DAC cabling. These breakout configurations can also be made using transceivers and splitter passive fiber cables if optical connectors are needed to detach fibers from the transceivers.
Similarly, new QSFP-DD and SFP-DD breakout cables will be available in the future to support new 50G PAM4-based switches and network adapters.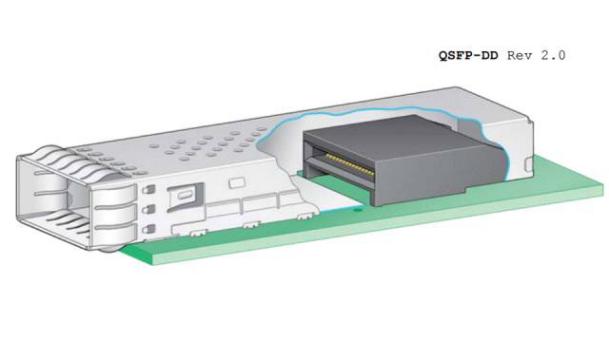 QSFP-DD Single Cage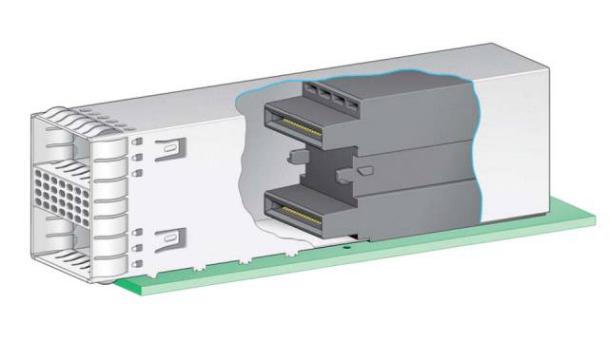 QSFP-DD Two Cages (two transceivers 4*2*2 channel)
Due to industry need, most pluggable form factors eventually see developed a two-high stacked cage-connector system in addition to a one-high cage connector system. Often the one-high system is included in the initial MSA specification and the two-high is left to independent individual suppliers. To serve better the industry, the QSFP-DD MSA group chose to develop concurrently both the one-high and the two-high cage-connector systems.
10Gtek offers complete end-to-end solutions of switches, network adapters, cables and transceivers supporting both the SFP+ for 10G line rates, the SFP28 for 25G line rates, the QSFP+ for 40G line rates and the QSFP28 for 100G line rates. Soon 50G PAM4 for 200G and 400G systems and interconnects for both Ethernet and InfiniBand will be launched.
Supporting resources:
关于2017年7月14日引用匡国华博士的图文致歉
各位读者:

由于我们的工作错误,在文章"SFP-DD and QSFP-DD, 50G PAM4 for 200G and 400G are on the way" 中,未经允许引用匡国华博士原创图片,并署名为10Gtek设计,这与事实严重不符,特此向所有读者和匡国华博士表示深刻的歉意。在以后工作中,我们定会更严格地审核所有素材。同时,欢迎大家对我们的工作进行监督并提出宝贵意见。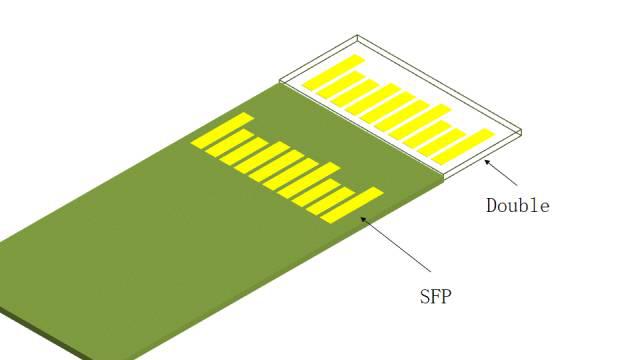 我们错误的将此图标为10Gtek公司设计,这与事实严重不符。此图为匡国华博士所设计,引用自 https://mp.weixin.qq.com/s?__biz=MzA3NjU5OTE0Nw==&mid=2650743086&idx=1&sn=6cc47ba4252471dc33b1836652d7b701&chksm=87555b2ab022d23cb07f1e838f8834b308b778da4d330142beb062bd891e14e90a8af0bf6f44&mpshare=1&scene=1&srcid=0717BdiGbObRJBlYy7Nln23W#rd,在此向匡国华博士郑重道歉。