Why Choose 10Gtek?
Date:
2017-06-13 01:17:48
Author:
10Gtek
Tag:

10Gtek is a data center products and solutions manufacturer providing high quality products and services including transceivers, cables, and more for a wide range of customers. We've been in business since 2008 and are growing every day. Our headquarters is located in beautiful Shenzhen, China, the "Silicon Valley" of China. We provide products and services to over 1,000 satisfied customers including most main data centers. Our mission is to provide the highest quality products and services to our customers to make sure they keep coming back. So why should you choose 10Gtek?
High Quality, High Performance, Guaranteed: To us, quality is not just a word but a mission. 10Gtek is an ISO14000:2004 & ISO 9001:2008 certified manufacturer. We've spent over one million dollars on state of the art testing facilities to make sure that every product meets our customer's demands. We adhere to a strict standard of quality control and guarantee that every single product that leaves our factory has been fully tested for high performance and durability. We take great pride in making sure that we produce the best products possible and that 10Gtek stands for quality.

Customized Service to Meet Your Needs: At 10Gtek, we know that not all data centers are the same. That's why we provide customized service to meet our customer's unique demands. If you need special cable lengths, mix-link connections, customized specifications or any other unique demands, we're here to make sure you get exactly what you need. Our state of the art manufacturing facility has the capability to meet any specialized request or specification. Whatever your data center requires, 10Gtek is ready to meet it.
Need It Fast? No Problem! Need A Large Order? No Problem!: Do you need your products fast? Do you need them "like yesterday"? While we don't have a time machine, 10Gtek has the next best thing with our fast, on-demand delivery service. We can provide most orders in under 24-hours because we keep all of our products in stock and ready to ship. Need a larger order? 10Gtek is ready to handle it. Our flexible manufacturing ability means that all orders will arrive within 4 weeks, even for orders from 1,000pcs to 10,000pcs.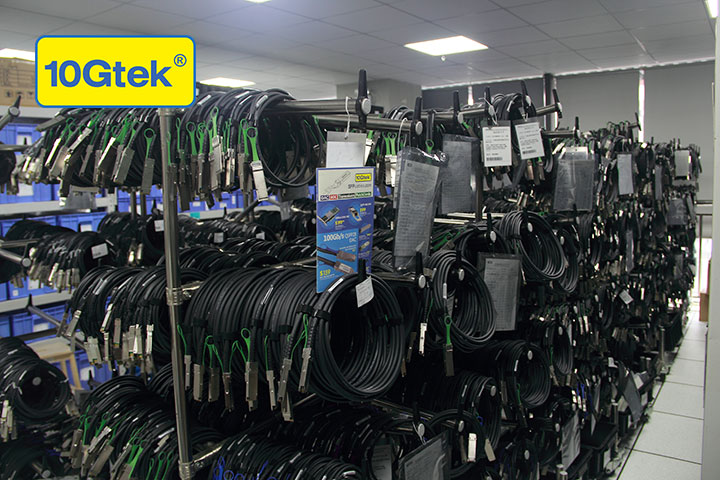 One Stop Shop for All Your Data Center Needs: Need transceivers? We got them! Need cables? We got them! Need patch cords? We got them! No need to run around looking for each part from a different store. We have everything you need to make sure your data center is running at its optimal capability. Need something you don't see? Ask us! We're happy to provide customized service. 10Gtek is your one stop shop for all of your data center needs! www.sfpcables.com is the site you desire.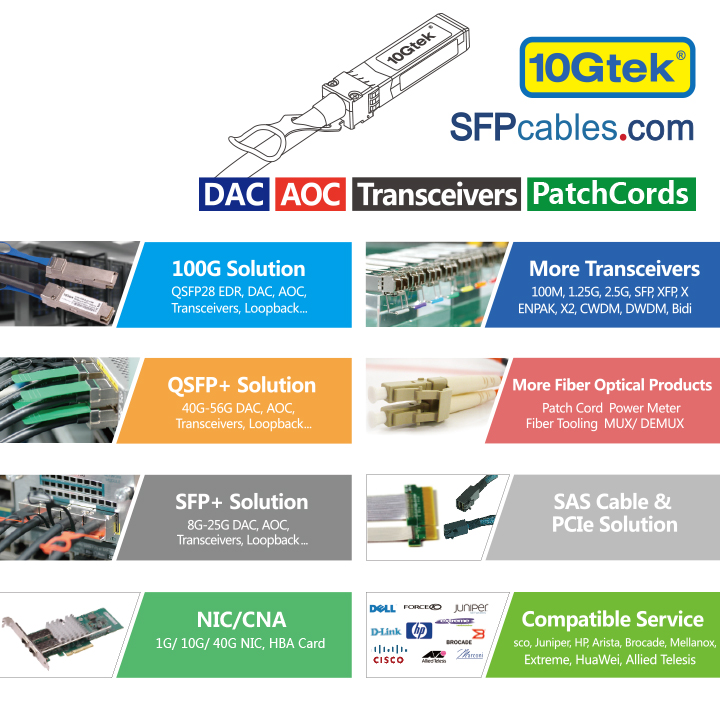 Have Questions? Don't Know What You Need? We're Here to Help!: At 10Gtek, making sure our customers are happy is our most important goal. We strive to have the best customer service experience both before and after purchase. 10Gtek's customer service department is here to help you with any questions or problems that you may have. Don't hesitate contact us at info@10gtek.com.