HDMI to Fiber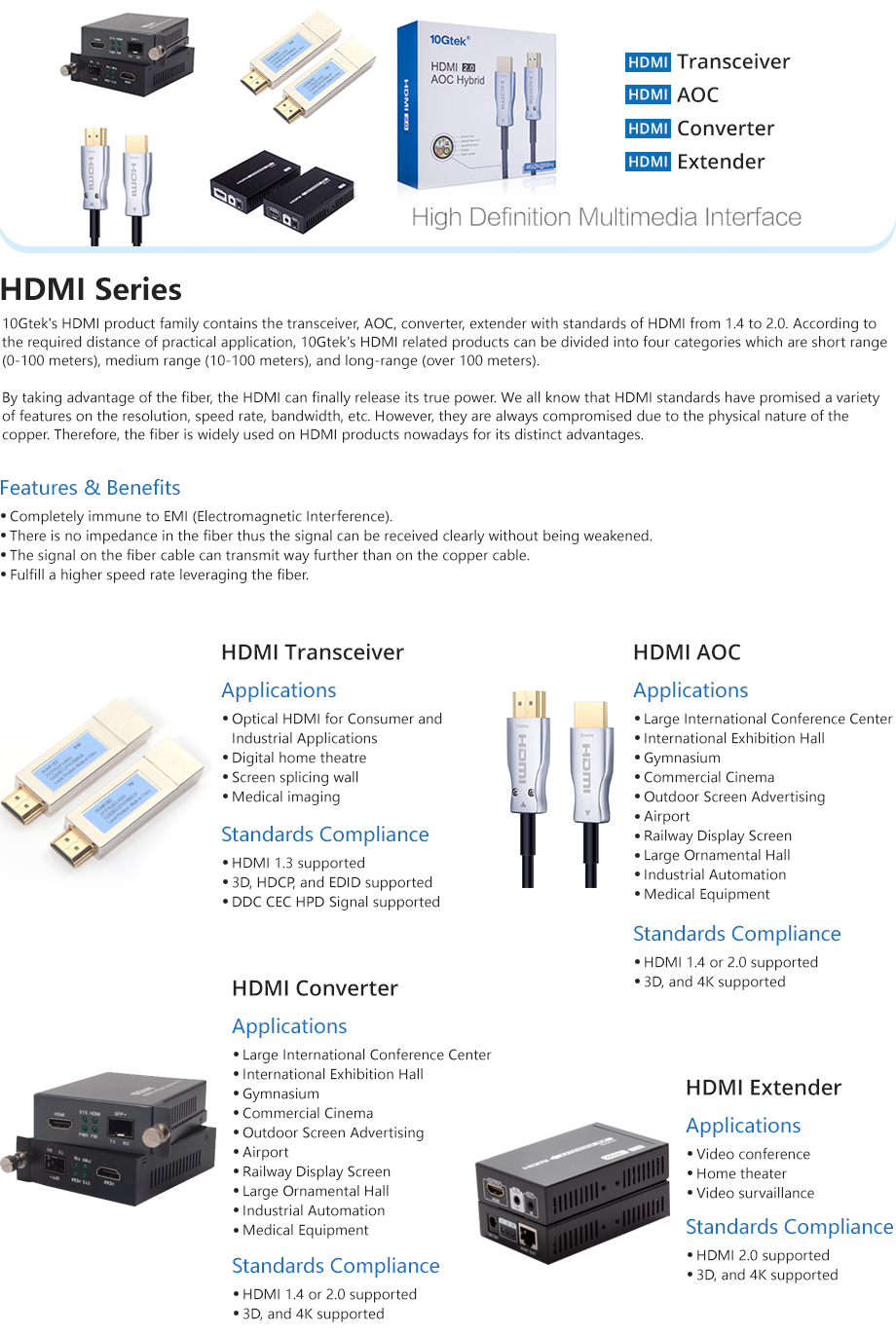 HDMI (High Definition Multimedia Interface) is a dedicated digital interface to transmit uncompressed audio signals and video signals. With the increase of applications, receiving remote HDMI signal often leads to partial color, blur, ghosting and smearing the signal and moire problems. 10Gtek offers the HDMI Transceivers, HDMI to Fiber Converters. HDMI optical transceiver support an uncompressed lossless HDMI 1.4a signal transmission over multimode optical fiber at 850nm, up to distance of 300 meters @ OM3. HDMI fiber converter leverage the optical modules to help convert audio/video HDMI signal and distal to extend the fiber-optic transmission of optical signals, support 2U Rack Matrix and the transmission distance ranges from 300m to 80km for SFP+ optional.
HDMI Transceivers
Features
●Support uncompressed HDMI 1.4a signal Transmission
●HDMI transceivers for DVD or TV
●Up to 300 meters @ OM3 MMF
●Data Rate: 10Gb/s
●Integrated USB Connector for Power
Applications
●Digital home theatre
●Screen splicing wall
●Medical imaging
HDMI to SFP+ Converter (a pair)
Features
●Support uncompressed HDMI 1.4a signal Transmission
●Standard HDMI Matrix
●HDMI converters for DVD or TV
●300-meter to 80km SFP+ transceivers for optional
●Data rates: 10Gbps
Applications
●Multimedia information publishing and large screen splicing system;
●News centers, traffic guidance and information display systems;
●Outdoor large screen display system, Sports field, multimedia conferencing system;
●Military exercises, spaceflight, customhouse, airports, stations, ports, prisons, museums and galleries.