10Gtek's Active Optical cables (AOC) offer a flexible way to connect within racks and across adjacent racks. AOCs are much thinner and lighter than copper cables, which makes cabling easier. Active optical cables enable efficient system airflow, which is critical in high-density racks.
10Gtek offers a wide range of products for 1m to 100m reaches, in CXP, QSFP28, QSFP, SFP28, SFP+ form factors and data rates of 10G~120G.
In addition to meeting or exceeding IBTA and IEEE standards, 10Gtek AOC are 100% tested on various of brand switches and routers (Cisco, Juniper, Arista, Extreme, HP, Uniquiti etc) to ensure well compatibility and the best optimal signal integrity. With 10Gtek AOC you will experience trouble-free installation and long-term operation.
Speed
Form Factor
Feature
Part Number
Length Options
Datasheet
120 Gbps
CXP
CXP to CXP
120G CXP
5M,10M,20M,50M,30M,100M
100 Gbps
QSFP28
QSFP28 to QSFP28
AOC-Q4Q4-xxM
5M,7M,10M,15M,20M
QSFP28 to 4x 25G SFP28
AOC-Q44S-xxM
5M,7M,10M,15M,20M
40 Gbps
QSFP+
QSFP+ to 8x LC Connector
QSFP-8LC-AOC-xxM
10M,15M,20M,50M,100M
QSFP+ to 4x 10G SFP+
AOC-Q14S-xxM
1M,50M,100M
QSFP+ to 4x LC Full Duplex
AOC-Q1C2-xxM
1M,50M,100M
QSFP+ to QSFP+
AOC-Q1Q1-xxM
1M,50M,100M
QSFP+ to QSFP+
QSFP-AOC-xxM
10M,20M,30M,50M,100M
56 Gbps
QSFP+ to QSFP+
FDR-AOC-10M
10M
25 Gbps
SFP28
SFP28 to SFP28
AOC-S4S4-xxM
1~100M
10 Gbps
SFP+
SFP+ to SFP+
AOC-S1S1-xxM
1~100M
AOC Cable Advantages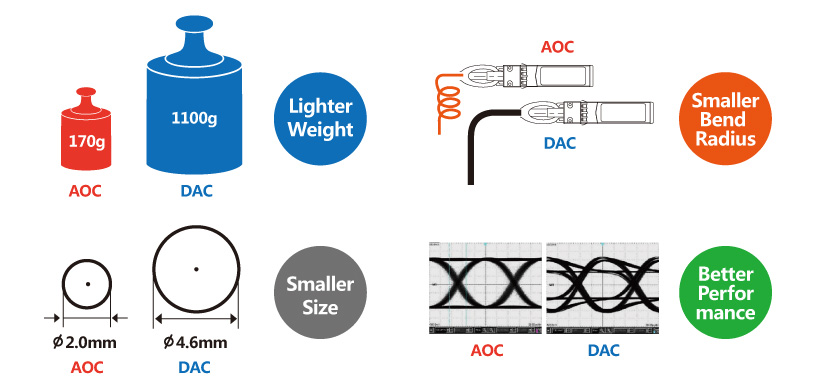 AOC Road Map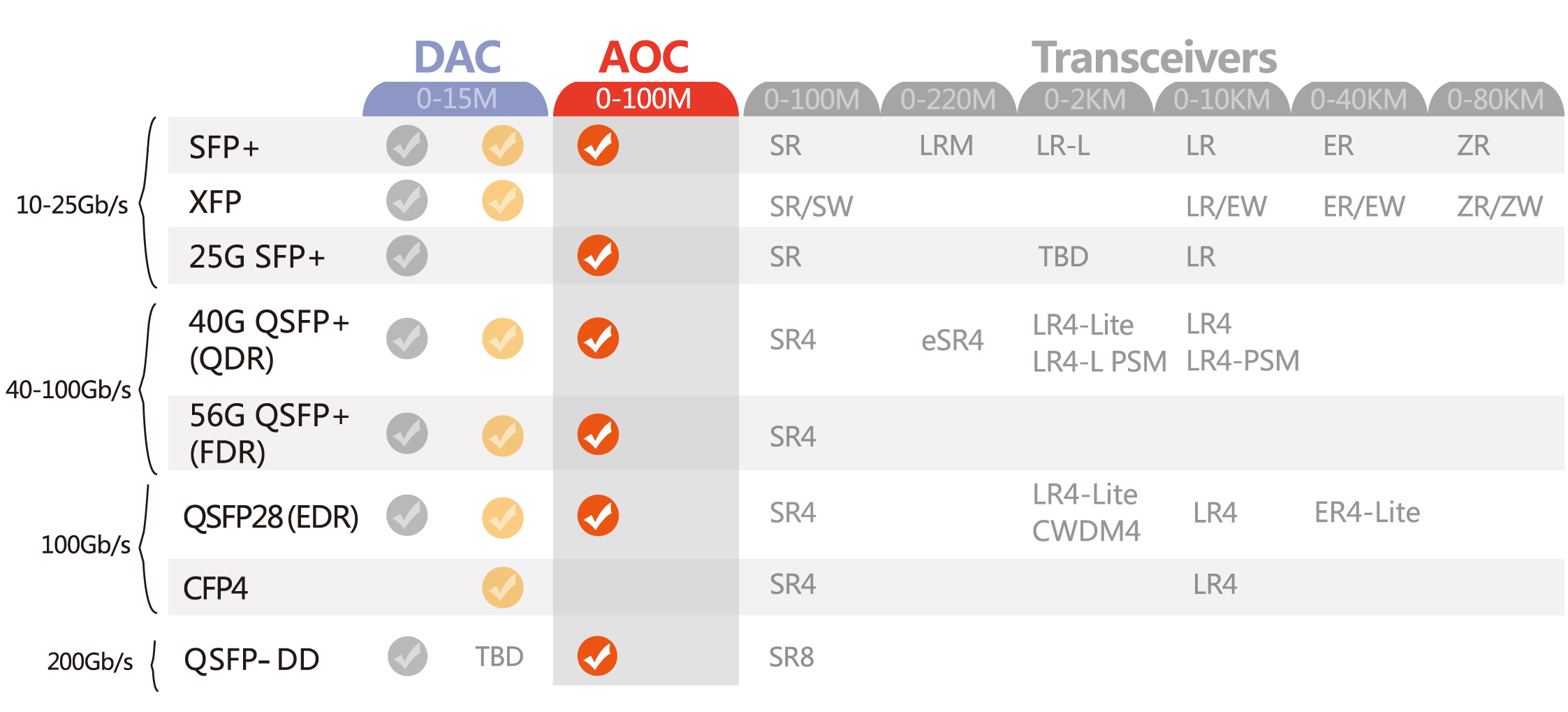 100Gb/s QSFP28 AOC
Applications
HPC Interconnects
Infiniband EDR,FDR,QDR
Bit Error Ratio (BER):10-12
Proprietary Interconnections
Ethernet for 100GBASE-SR4
LOW Power consumption of max 3.5W
VCSEL array transmitter and PIN array receiver
Supports 100Gbps data rate links up to 70m/100m via OM3/OM4
Standards Compliance
ROHS
SFF-8665
100GBASE-SR4(IEE 802.3bm)
56Gb/s QSFP+ AOC
Applications
SATA/SAS Storage
HPC Interconnects
4G/8G/10G Fiber Channel
40GBASE-SR4 Ethernet links
Proprietary Interconnections
InfiniBand FDR,QDR,DDR,and SDR
Standards Compliance
SFF-8436
QSFP+End
IEEE 802.3ba
Electrical: IBTA V2 Revision 1.2.1 and 1.3
40Gb/s QSFP+ AOC
Applications
InfiniBand 4X SDR, DDR, QDR and FDR
Ethernet 10G, 40G, 56G
FiberChannel 40G, SAN, 4x16G
Rack-to-Rack, Shelf-to-Shelf Interconnect Top of Rack (TOR) Switch
Networking, Storage
Hubs, switches, routers, servers
Supercomputer, HPC
Standards Compliance
QSFP+ End
Electrical: IBTA V2 Revision 1.2.1 and 1.3
IEEE 802.3ba
SFF-8436
25Gb/s SFP+ AOC
Applications
Applicableto25GEthernet
Lowpowerconsumption:<0.8W
DataCenterandin-rackconnection
HighcapacityIOwithSFP+interface
Bitratesupportfrom25Gbpsto28GBPS
SFP+housingwithenhancedEMIshielding
Supportupto70mbyactiveopticalcablewithOM3fiber
Standards Compliance
SFF-8432
SFF-8472
SFF-8402
RoHS
10Gb/s SFP+ AOC
Applications
10 Gigabit Ethernet (10GbE)
4G and 8G Fiber Channel , Fibre Channel over Ethernet (FCoE)
InfiniBand (QDR/DDR/SDR)
Top of Rack (TOR) Switch
Networked storage systems
High Performance Computing
Servers, switches, storage and NIC
Standards Compliance
SFF-8431
SFF-8432
SFF-8472
RoHS
40Gb/s QSFP+ to 4x SFP+ AOC
Applications
InfiniBand 4X SDR, DDR, QDR and FDR
Ethernet 10G, 40G
FiberChannel 10G, 40G, SAN
Rack-to-Rack, Shelf-to-Shelf Interconnect Top of Rack (TOR) Switch
Networking, Storage
Hubs, switches, routers, servers Supercomputer, HPC
Standards Compliance
QSFP+ End
Electrical: IBTA V2 Revision 1.2.1 and 1.3
IEEE 802.3ba
SFF-8436
SFP+ End
SFF-8431
SFF-8432
SFF-8472
RoHS
40Gb/s QSFP+ to 8x Lc AOC
Applications
InfiniBand 4X SDR, DDR, QDR and FDR
Ethernet 10G, 40G
FiberChannel 10G, 40G, SAN
Rack-to-Rack, Shelf-to-Shelf Interconnect Top of Rack (TOR) Switch
Networking, Storage
Hubs, switches, routers, servers Supercomputer, HPC
Standards Compliance
QSFP+ End
Electrical: IBTA V2 Revision 1.2.1 and 1.3
IEEE 802.3ba
SFF-8436