QSFP28 Optical Transceiver
The 10Gtek 100G QSFP28 transceiver is a 100Gb/s Small Form-factor Pluggable (QSFP28) optical module. The QSFP28 full-duplex optical module offers 4 independent transmit and receive channels, each capable of 25Gb/s operation for an aggregate data rate of 100Gb/s.

10Gtek's 100G QSFP28 Transceivers family includes solution from 100m to 10km transmission ranges, from MMF to SMF and use MTP/MPO or LC-LC connector, which designed to maximize their port density and minimize operating costs, providing a variety of options for data center interconnect solution, telecom networks. Digital diagnostics functions are available via an I2C interface, as specified by the QSFP28 MSA. The transceiver is RoHS-6 compliant.

10Gtek's new released 100G QSFP28 Transceivers (QSFP28 SR4, QSFP28 LR4, QSFP28 IR4PSM, QSFP28 CWDM4) will help to drive next generation of data center and enterprise interconnects.
Features
Operating Temperature: 0~70°C
Low power consumption of max 4.5W
Compliant with 100G Ethernet IEEE 802.3bm
Supports 100Gbps data rate links of up to 25km
Compliant to SFF-8665 (QSFP28 Solution) Revision 1.8

Applications
100G Ethernet
HPC Interconnects
Proprietary Interconnections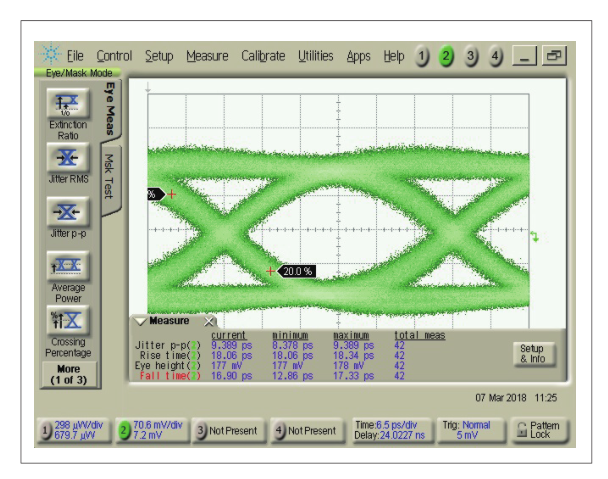 100Gb/s QSFP28 SR4 Module Electrical Eye Pattern
Eye Pattern Testing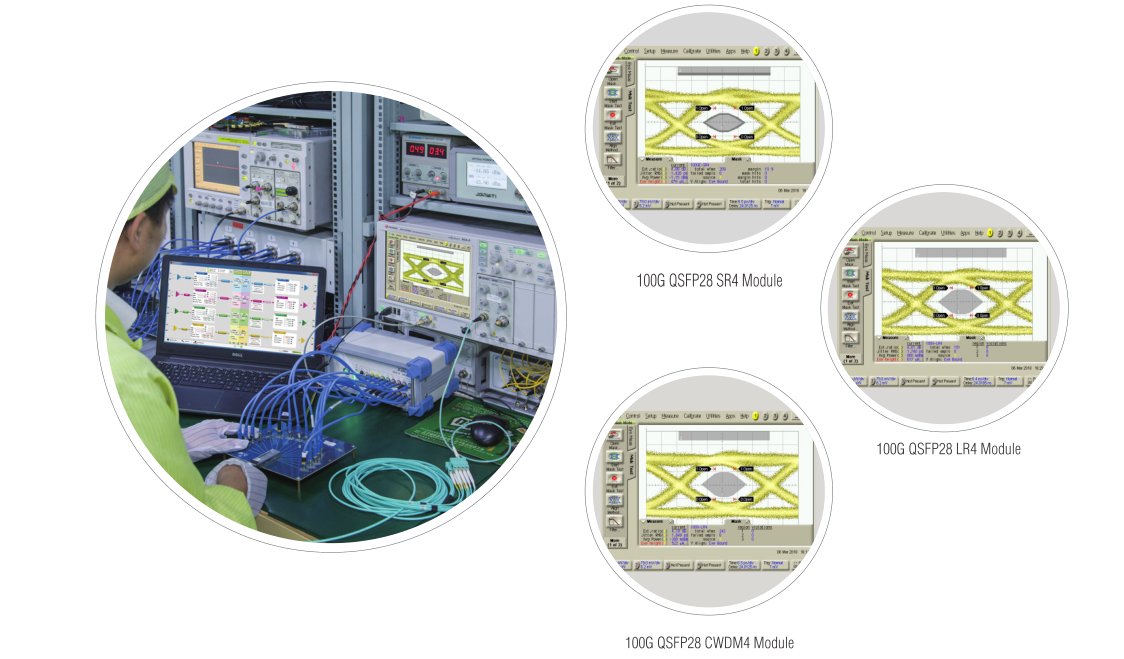 Ordering Information
Part Number
Description
Reach
TX
RX
Power Consumption
Connector/Fiber
Wavelength
Power(dBm)
RX
Sens.(dBm)
AMQ28-SR4-M1
QSFP28 SR4
100m
VCSEL 850nm
-6.4~3
PIN
<-5.2
<3.5W
MPO/MMF
ALQ28-LR4-10-DML
QSFP28 LR4
10km
DML LWDM 1295~1310nm
-4.3~4.5
PIN
<-8.6
<3.5W
LC/SMF
ALQ28-LR4-10-EML
QSFP28 LR4
10km
EML LWDM 1295~1310nm
-4.3~4.5
PIN
<-8.6
<3.5W
LC/SMF
ALQ28-ER4-25
QSFP28 ER4 Lite
25km
EML LWDM 1295~1310nm
-2.9~4.5
APD
<-16.9
<4.5W
LC/SMF
ALCQ28-IR4-02
QSFP28 CWDM (w/ host FEC)
2km
DFB CWDM 1271~1331nm
-6.5~2.5
PIN
<-10.0
<3.5W
LC/SMF
ALCQ28-IR4-02-FEC
QSFP28 CWDM (w/o host FEC)
2km
DFB CWDM 1271~1331nm
-6.5~2.5
PIN
<-11.5
<3.5W
LC/SMF
AMQ28-IR4-02
QSFP28 PSM4 (w/ FEC)
2km
DFB 1310nm
-8.4~2.4
PIN
<-11
<3.5W
MPO/SMF
AMQ28-IR4-02-FEC
QSFP28 PSM4 (w/o FEC)
2km
DFB 1310nm
-8.4~2.4
PIN
<-11
<3.5W
MPO/SMF