CAB-8087/8087-P50CM
SFF-8087 to SFF-8087 MiniSAS Cable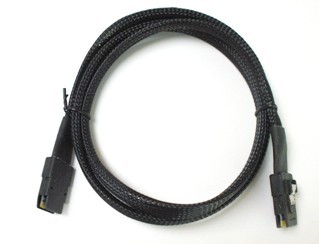 Product Description: Mini Serial Attached SCSI (miniSAS) Internal Cable Assemblies provide for high speed transmission up to 6 Gbps. It is an ideal interconnect solution for the growing server and storage market. MiniSAS are designed to signifi cantly reduce the cable size for storage systems currently using SAS 4-lane (4x or 4-lanes of data) and are being widely adopted for next-generation designs. The 36-position internal miniSAS cable assemblies are available in custom lengths of up to one meter. They are also available in three standard sideband confi gurations. Customized sideband confi gurations are available upon request.
order
MiniSAS SFF-8087 to SFF-8087
Cable Length: 0.5Meter
Connector on First End: 1 x 36-pin SFF-8087
Connector on Second: 1 x 36-pin SFF-8087
Support data rates at 6.0 Gbps
Internal 36 pin miniSAS interconnect between controllers, expanders, backplanes and internal-to-external adapters.
Data Center
Servers
Workstations and desktops