AXS13-192-10
SFP+ 10Gb/s, 10GBase-LR, SMF, 1310nm 10KM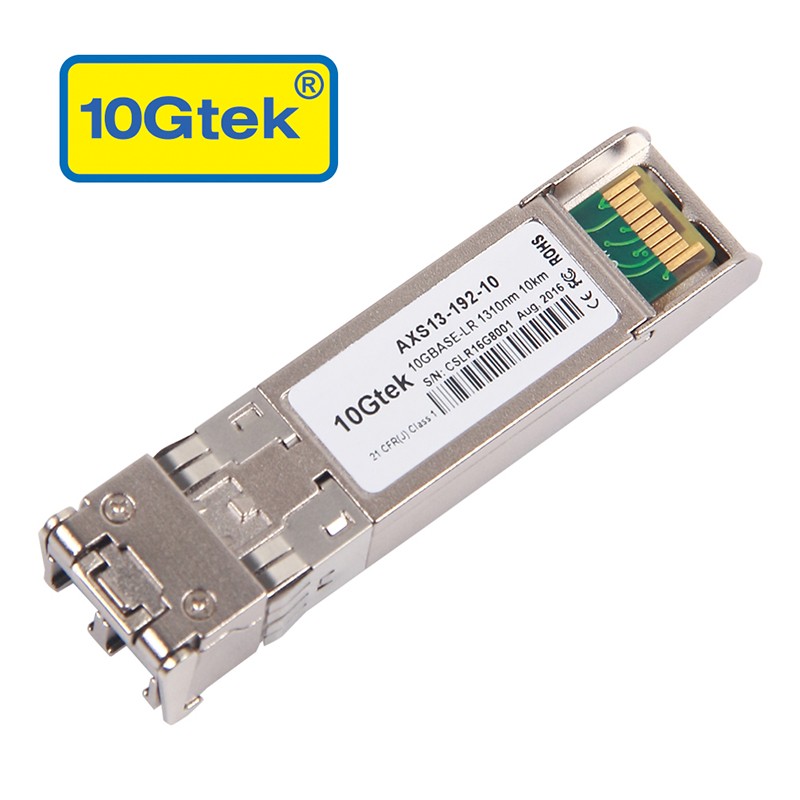 The AXS13-192-10 1310nm DFB 10Gigabit Transceiver is designed to transmit and receive serial optical data over single mode optical fiber with 10KM.
They are compliant with SFF-8431,SFF-8432,10GFC Rev 4.0,FC-PI-4 Rev 7.0 and IEEE802.3ae 10GBASE-LR/LW.
The transmitter converts serial CML electrical data into serial optical data compliant with the IEEE 802.3ae standard.
An open collector compatible Transmit Disable (Tx_Dis) is provided.
When TX_DIS is asserted High,Transmitter is turned off.
The receiver converts serial optical data into serial CML electrical data.
An open collector compatible Loss of Signal is provided.
The RX_LOS signal indicates insufficient optical power for reliable signal reception at the receiver.
Digital diagnostics functions are available via a 2-wire serial interface,as specified in SFF-8472.
order
Operating data rate up to 10.3Gbps
1310nm DFB-LD Transmitter
Distance up to 10km
Single 3. 3V Power supply and TTL Logic Interface
Duplex LC Connector Interface,Hot Pluggable
Compliant with MSA SFP+ Specification SFF-8431
Compliant with 10G FC 1200-SM-LL-L FC standard
Compliant with 8.5G FC-PI-4 800-SM-LC-L FC standard
Compliant with 4.25G FC-PI-4 400-SM-LC-L FC standard
Compliant with 2.125G FC-PI-4 200-SM-LC-L FC standard
Compliant with 1.0625G FC-PI-4 100-SM-LC-L FC standard
Compliant with IEEE 802.3ae 10GBASE-LR/LW
Operating Case Temperature Standard:0℃~+70℃
10GBASE-ER at 10.31Gbps
10GBASE-EW at 9.95Gbps
1000 Base-LX Ethernet
8x FC at 8.5Gbps
4x FC at 4.25Gpbs
2x FC at 2.125Gpbs
1x FC at 1.0625Gbps
Other optical links