DAC (direct attach copper cable)

10Gtek is a leading supplier of DAC cables, including high performance cable assembly with data rate of 10G, 40G up to 100G. 10Gtek has SI testing lab, reliability lab with equipment like Agilent E5071c, Agilent 86100D, Agilent 54754A, Keysight N5224a, N5234a … All 10Gtek's products are designed and manufactured in strict accordance with MSA SFF-8472, SFF-8472, SFF-8431, SFF-8074, SFF-8436, SFF-8665, IEEE802.3ba, IEEE802.3bj, etc and 100% pass TDR, VNA (EPN) tests. 10Gtek has 3 high-performance cable production lines with a capacity of 50,000pcs cables per month.  
DAC Cable Advantages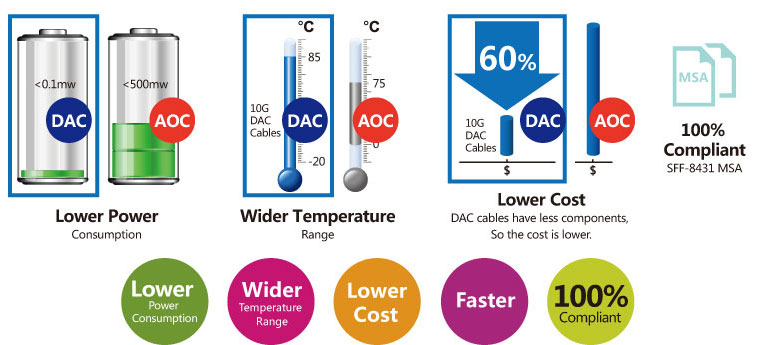 DAC, with the advantages of lower power consumption, lower cost and wider temperature, is the first alternative without question to replace optical transceiver for short distance.
DAC Cable Road Map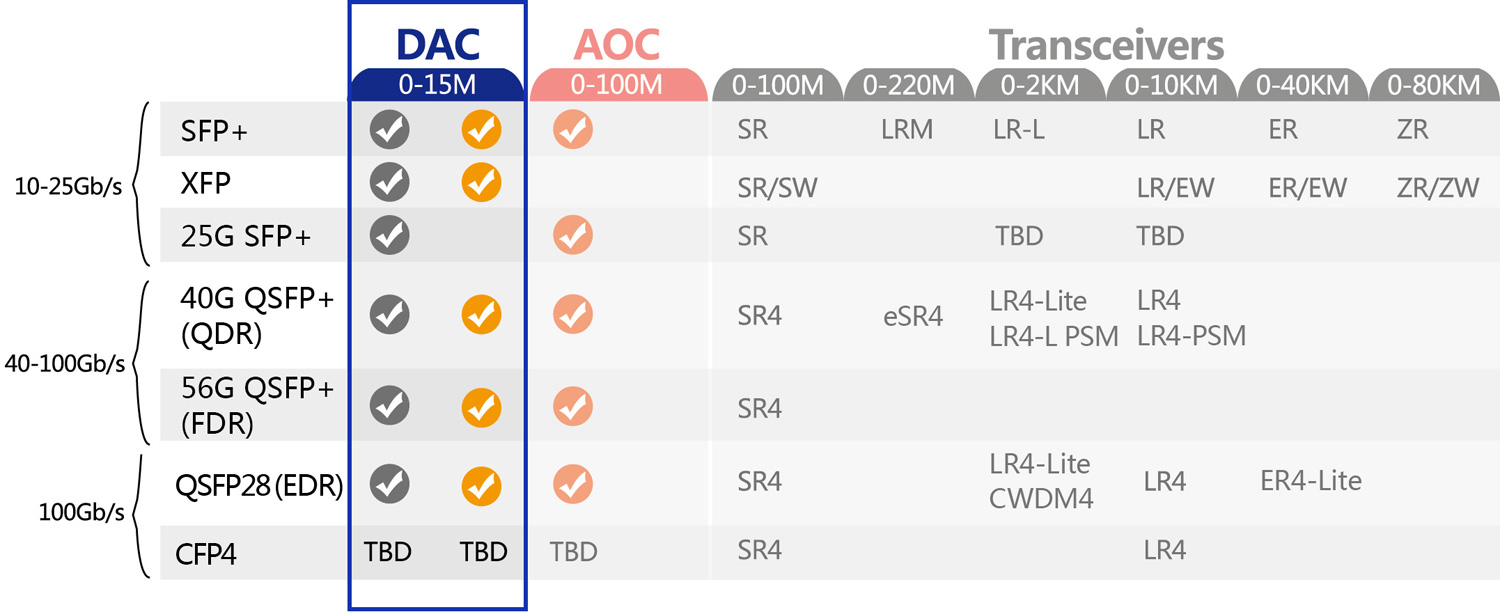 10Gb/s SFP+ DAC
Applications
● InfiniBand SDR, DDR, QDR
● Ethernet
● Fiber Channel 8G, 10G
● FCoE 10G
● Networking, Storage
● Hubs, switches, routers, servers, NICs
Standards Compliance
● IEEE 802.3ae
● Electrical: SFF-8431, SFF-8083
● Mechanical: SFF-8432
● EEPROM: SFF-8472
● RoHS
40~56Gb/s QSFP+ DAC
Applications
● InfiniBand 4X SDR, DDR, QDR and FDR
● Ethernet 10G, 40G
● FiberChannel 10G, 40G, SAN, 4X16G
● RapidIO
● Rack-to-Rack, Shelf-to-Shelf Interconnect
● Top of Rack (TOR) and Core Switch
● Networking, Storage
● Hubs, switches, routers, servers
Standards Compliance
● Electrical: IBTA V2 Revision 1.2.1 and 1.3
● IEEE 802.3ba
● SFF-8436
● RoHS
100G QSFP28 DAC
Applications
● Suports aggragate data rates of 100Gbps
● Low insertion loss and cross talk
● Low EMI radiation Switches, servers and routers
● Data Center networks
● Storage area networks
● High performance computing
● Telecommunicaiton and wireless infrastructure
● Medical diagnostics and networking
● Test and measurement equipment
Standards Compliance
● 100G Ethernet (IEEE 802.3bj)
● InfiniBand EDR
● SFF-8665
● RoHS compliant
40Gb/s QSFP+ to 4x SFP+ DAC
Applications
● InfiniBand 4X SDR, DDR, QDR and FDR
● Ethernet 10G, 40G
● FiberChannel 10G, 40G, SAN, 4X16G
● RapidIO
● Rack-to-Rack, Shelf-to-Shelf Interconnect
● Top of Rack (TOR) and Core Switch
● Networking, Storage
● Hubs, switches, routers, servers
Standards Compliance
QSFP+ End
● Electrical: IBTA V2 Revision 1.2.1 and 1.3
● IEEE 802.3ba
● SFF-8665
● SFF-8436
SFP+ End
● IEEE 802.3ae  ● SFF-8431
● SFF-8432  ● SFF-8472
● RoHS
6~12G MiniSAS Cables
Applications
● Servers
● RAID systems
● Storage Systems
● SAS/SATA HBA interfaces
● Direct-attached storage (DAS)
Standards Compliance
● SAS 3.0
● SAS 2.1
● SAS 1.1
● SFF-8088
● SFF-8087
● SFF-8644
● SFF-8643
● RoHS
10Gb/s XFP/ CX4 Cables
Applications
● Rack-to-Rack, Shelf-to-Shelf Interconnect
● Communications: Switches, Routers
● Bridge the gap between your XFP and SFP+
Standards Compliance
● XFP DAC Cable Assembly
● Low power consumption
● Up to 11.3 Gbps transfer rate
● 10GbE/SONET OC-192/ SDH-64/ Fiber Channel
Applications
● 10GBASE-CX4 Applications (up to 15m)
● 10GbE, InfiniBand SDR, DDR
● High Speed Network, Server and Storage connections
Standards Compliance
● CX4/ Infiniband Cable Assembly
● Passive AWG30/AWG28/AWG26/AWG24